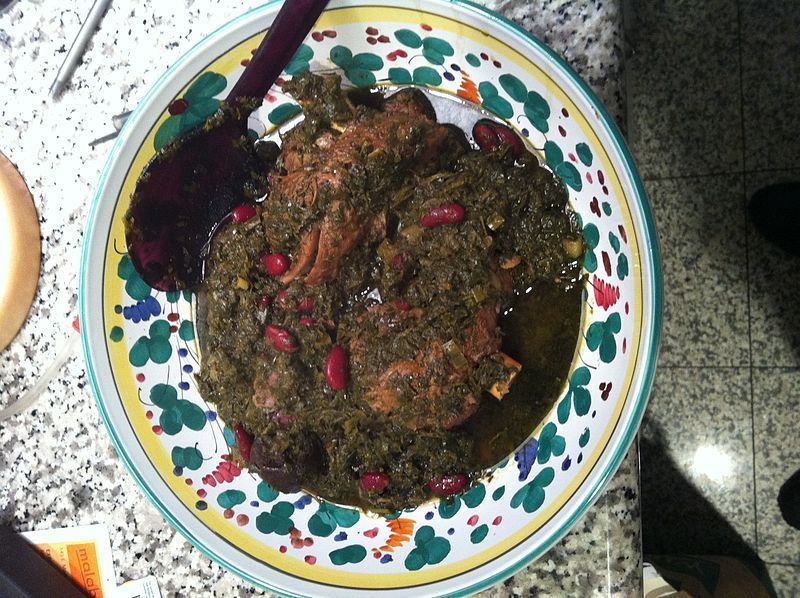 Ingredients
750 grams boneless stewing lamb or beef
1 large onion, finely chopped
1/3 cup of cooking oil
1 teaspoon turmeric
1.5 cups water
1/2 cup dried limes (or fresh lime juice)
3/4 cup black-eye beans or kidney beans
1 large potato, diced (optional)
salt
black pepper
1 cup spring onions, finely chopped
1.5 cups spinach, finely chopped
1/2 cup parsley, finely chopped
1/4 cup coriander, finely chopped (optional)
1/4 cup tareh (garlic chives), finely chopped
1/4 cup shanbelileh (fenugreek), finely chopped (optional)
Prep. Time → 60 min
Cook Time → 20 min
1. The main ingredients are a mixture of sauteed herbs, consisting mainly of parsley, leek, and a smaller amount of fenugreek leaves--where this is usually the dry herb of the mix. The herb mixture has many variations; spinach and coriander are added in some regions, but do not form part of the original recipe. This mixture is cooked with kidney beans or black eyed peas, red onions, chopped chives, pierced dehydrated limes, and turmeric seasoned lamb shank or neck or veal meat. Traditional Qormeh sabzi is almost always cooked with lamb and kidney beans, while in some northwestern regions of Iran, variations with black-eye beans exist. In recent times, some people replace beans with potatoes, which is also not part of the original recipe. Also, some prefer to leave out the fenugreek, while many consider it to be an essential ingredient. The dish is then served with polo (Persian rice) or over "tahdig" (bottom-of-the-pot), the crunchy al-dente section of the twice cooked rice.
2. Direction:
--------------------------------------------------
Trim meat and cut into 2 cm (3/4 inch) cubes. Fry onion over medium heat in half of the oil until golden. Add turmeric and fry for 2 more minutes.
3. Increase heat, add meat cubes and stir over high heat until meat changes color and begins to turn brown. Reduce heat.
4. Add water, black-eye or kidney beans, salt and pepper to taste. Cover and simmer gently for 1-1.5 hours hours until meat is tender. Time depends on type of meat used.
5. Fry potatoes over high heat in the remaining oil until lightly browned. Add to sauce, leaving oil in the pan. Cover and simmer for 10 minutes.
6. Add prepared vegetables to frying pan and fry over medium heat until wilted. Add to sauce, then add dried limes (or lime juice), cover and simmer for further 10-15 minutes. Adjust seasoning and serve with white rice. An exquisite Iranian dish.
main courses April 06, 2011 15:50
Author Martik