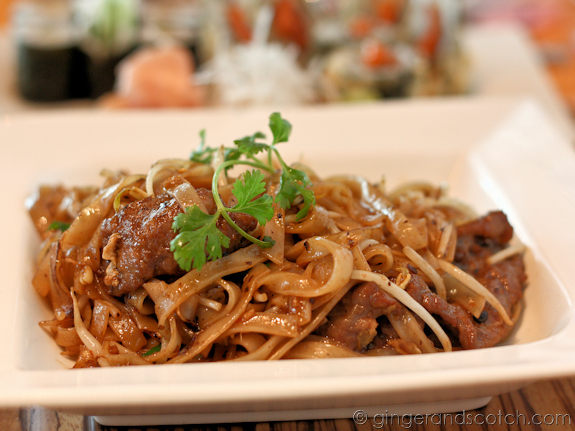 1 litre beef stock (I am recommending http://www.knorr.ch/product/detail/800471/bouillon-toepfli-rind)
60g ginger, peeled and thinly sliced
400g beef
440g rice noodles
3 tablespoons soy sauce
1 cup coriander leaves
1 cup mint leaves
2 green onions, sliced
2 small red chillies, sliced
Prep. Time → 5 min
Cook Time → 15 min
1. Place the beef stock and ginger in a saucepan over high heat and bring to the boil.
2. Set the rice noodles to boil in a pan. Once they are done rinse them under cold water.
3. Reduce the heat to low and add the beef. Gently poach for 10-15 minutes or until tender.
4. Remove the beef from the pan, reserving the stock, and shred.
5. Add the noodles to the beef stock. Cook for 1–2 minutes or until separated.
6. Drain, discarding stock, and return noodles to the pan with the chicken, soy sauce, coriander, mint, green onion and chilli and toss to combine.
main courses, asian, beef, broth, fresh, herbs, spicy, thai, rice noodles, gluten free September 29, 2014 11:05
Share the recipe with your friends
No one has liked this recipe.
0 comments