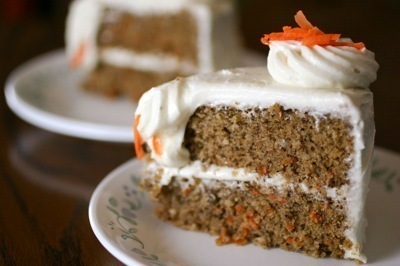 Ingredients
3 cups gluten free flour mix
(2 parts brown rice flour
2/3 part potato starch (not potato flour! Must be starch)
1/3 part tapioca starch, Pamela's also makes a fantastic pre-blended baking mix
http://www.pamelasproducts.com/Products_frames.html )
1-1/2 teaspoons xanthan gum
1 tablespoon baking powder
2 teaspoons baking soda
1 teaspoon salt
2 teaspoons cinnamon
1/2 teaspoon nutmeg
2 cups granulated sugar
1-1/2 cups vegetable oil
4 large eggs, room temperature
2 teaspoons vanilla extract
2 cups grated carrots – about two large carrots, peeled before you grate them (photo)
1 cup finely chopped walnuts
1 cup shredded coconut
Cream Cheese Frosting
1/2 cup unsalted butter, room temperature
1/2 cup cream cheese, room temperature
3 cups powdered sugar, sifted if lumpy
1 teaspoon vanilla extract
1 lemon, zested and juiced (in same bowl is fine)
1. Preheat oven to 350ºF. Position rack in the center of oven. Spray two 8″ round cake pans with cooking spray and place a parchment round in the bottom of each.
Place flour, xanthan gum, baking powder, baking soda, salt, cinnamon and nutmeg in a medium mixing bowl and whisk until thoroughly combined. Set aside.
Beat sugar, oil and eggs in a large bowl with an electric mixer until smooth, about one minute. Add vanilla and mix well.
Slowly pour flour mixer into the sugar and oil mixture and beat at medium-low speed for one minute. Fold in carrots, walnuts and coconut.
Pour batter into prepared pans and bake in the center of oven for 52 minutes or until an inserted toothpick comes out clean.
Cool cake layers in the pans on a rack for ten minutes. Use a small knife to cut around pan sides to loosen cake. Invert cake layers onto a rack, peel off paper and cool completely.
3. Beat butter and cream cheese in a large bowl with electric mixer until light and fluffy.
Add powdered sugar and beat at low speed until well blended.
Beat in vanilla, lemon zest and juice until smooth.
5. Level your two cakes by removing the rounded top where they rose in the oven. You can either use a long serrated knife or a cake leveler. I use the leveler, because it's a lot easier to make straight layers by walking the leveler in a sawing motion.
Place your base layer of cake onto a lazy Susan or other decorating surface.
Scoop 1/2 cup of frosting onto top of base layer and smooth to edges with a spatula or pastry knife.
6. Place the second layer of cake on top of base layer, making sure it's straight.
7. If you like, frost a quick crumb coat over the cake and set cake in the fridge for 20 minutes to set.
Frost the outside of the cake, leaving some frosting left over to decorate the top.
Using a pastry bag with a large star tip, pipe eight small rosettes of icing around the top of the cake.
desserts, gluten free, baking, gluten free cake April 09, 2011 15:10
Author wasabimon.com