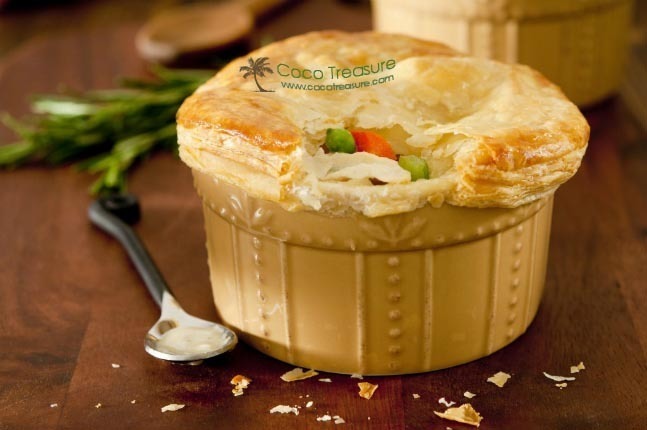 Ingredients
For the Crust
2/3 cup almond flour
1/3 cup organic coconut flour
1 teaspoon baking powder
½ teaspoon salt
2 tablespoons tapioca powder
½ teaspoon dried dill
¼ cup chilled certified unrefined organic extra virgin coconut oil, chopped into chunks
1 teaspoon organic coconut cider vinegar
3 tablespoons almond milk
1 egg
For the Filling
3 tablespoons certified unrefined organic extra virgin coconut oil
2 ribs celery, cleaned and chopped
2 carrots, peeled and chopped
½ cup chopped onion
½ cup fresh or frozen-thawed green peas
1 teaspoon salt
½ teaspoon garlic powder
½ teaspoon onion powder
½ teaspoon cumin
1 tablespoon tapioca starch
1 ½ cups chicken or vegetable stock
2 cups cooked, shredded chicken
Directions
1. For the Crust
Combine the first 6 ingredients in a large bowl or food processor. Add the organic extra virgin coconut oil and pulse or cut oil into the flour mixture with a fork until mixture is crumbly. Whisk egg, vinegar and almond milk in a small bowl, and add it into the flour mixture. Mix until the dough comes together in a ball. Cover in plastic wrap and refrigerate for at least 30 minutes.
2. For the Filling
Sauté vegetables and seasonings in organic extra virgin coconut oil over medium heat for about five minutes or until carrots start to become tender. Sprinkle tapioca starch over the vegetable mixture and combine until the starch is absorbed into the coconut oil. Slowly add 1 cup of stock into the pan while stirring. Bring the liquid to a boil. It should form a thin, silky gravy. If the gravy is too thick, add the remaining stock. Add the chicken. Remove the mixture from heat.
Remove dough from refrigerator and cut it into 8 equal pieces. Roll four pieces into a ¼-inch thick uniform crust to fit the bottom your ramekin. Spray each serving dish with non-stick spray or coat generously with unrefined organic extra virgin coconut oil. Place the bottom crust in each dish, fill with approximately 1 cup of chicken and vegetable mixture. Roll four top crusts, and place them over the filling. Brush the top of each crust with egg wash. Cut a slit in the center of each pie to release steam.
Place the ramekins on a shallow baking sheet and bake in a preheated 350-degree oven for 20 minutes or until the filling is hot and bubbly and crust is lightly golden. Allow to cool 10 minutes before serving.
gluten-free, gluten-free chicken pot pie November 02, 2017 01:51
Author https://cocotreasure.com/recipes/glut...
Share the recipe with your friends
No one has liked this recipe.
0 comments