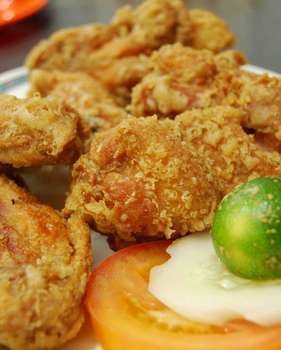 1 tsp smoked paprika
1 tsp mustard powder
1 tsp sage
1 tsp celery seeds
1 tsp sugar
1 tsp dried onion flakes / onion granules
2 tsp salt
1 tsp ground black pepper
1 tsp ground white pepper
Cup of cornflour
1 Egg
Boneless Chicken Thighs (I used thighs as its pretty thin. I don't have a deep fryer so its safer to have thin chicken)
Serve with Chips, Baked Beans and Corn on the Cob
Prep. Time → 40 min
Cook Time → 20 min
1. I came across a recipe in the Guardian for a Home Made KFC, I adapted it make it Gluten-Free.
2. Add all the spices, sugar and salt to a bowl and mix.
3. Add the cornflour and mix again.
4. Beat the egg into a separate bowl
5. Dip / soak each piece of chicken in the egg for about a minute each, I think KFC use milk rather than egg so thats a no go if your dairy free too.
6. Dip each piece of chicken into the batter mix ensuring even coating on both sides, let it sit in the mix for 30 seconds or so and place on a plate. Make sure the chicken doesn't touch each other or you'll risk taking the coating off. The best way to make sure the batter stays on the Chicken is to layer it in Kitchen Towel. So put some Kitchen Towel down on the bottom and top of the chicken.
7. Once coated let the batter soak into the chicken for at least half an hour before cooking.
8. Shallow fry the chicken turning occasionally. I used a tefal griddle pan and fried the chicken for about 15 - 20 minutes turning every few minutes.
9. Serve with chips, beans and Corn on the Cob
main courses, dairy free, gluten free, wheat free, kfc, fried chicken, homemade kfc November 10, 2011 13:07