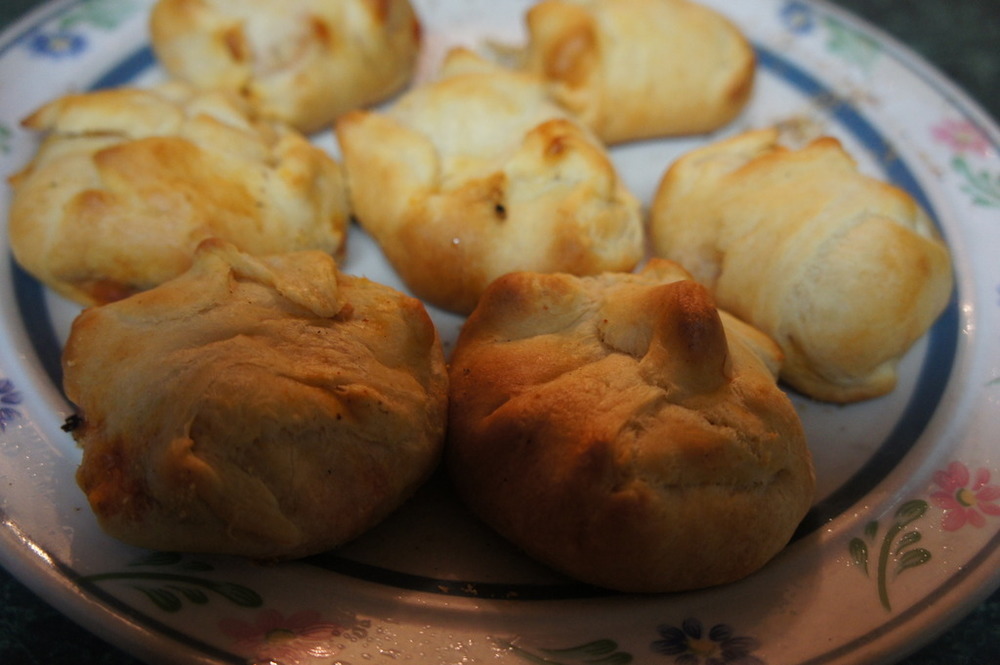 Ingredients
for 8 Poppers
- 1 Grilled Chicken Breast Diced Up
- Frank's Red Hot
- Celery - Not Finely Diced, but pretty small
- Cream Cheese - 4 oz
- Ranch Dressing Powder - 2 teaspoons
- 1 container of Pilsbury Crescent Rolls
- Corn Meal
- Ranch Dressing
Prep. Time → 10 min
Cook Time → 12 min
1. - Pre heat Your Grill To A Medium to High Heat. Put your Pizza Stone on the grill so it heats up at the same pace as the grill.
2. - Grill Your Chicken and when done, dice up.
3. - Toss Chicken in Buffalo Sauce
4. - Mix your 4 ounces of Cream Cheese with your 2 Teaspoons of Ranch Dressing Powder.
5. - 1 at a time, lay out your crescent rolls flat and spread it out a little.
6. - Take a some of the Cream Cheese mixture and spread it on the Crescent Roll
7. - Add some of your diced up celery
8. - Top it with some diced Buffalo Chicken
9. - Bring up the sides of the Crescent Roll so everything is wrapped up and pinch it closed at the top.
10. - Repeat for the remainder of rolls
11. - Throw some Corn Meal down on your pizza stone so the Poppers don't stick
12. - Cook for about 12 minutes or until the poppers have a nice golden brown color to them.
13. - Serve with Ranch Dressing for dipping.
appetizers, buffalo chicken, cream cheese, grill, recipe, franks red hot, grilling ideas, poppers February 23, 2012 17:30