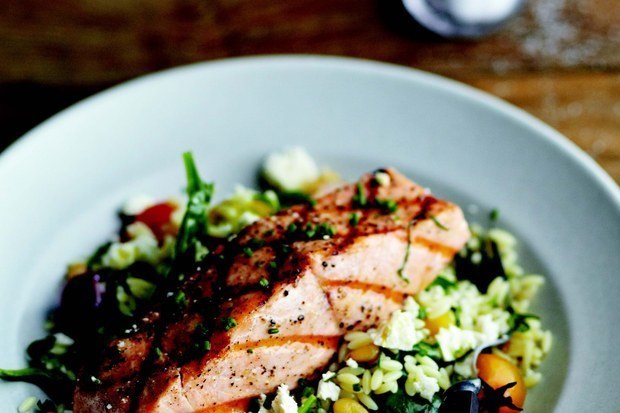 1 1/2 cups orzo
3 tbsp red wine vinegar
3 tbsp finely chopped shallots
2 finely chopped garlic cloves
1/3 cup extra virgin olive oil
salt and freshly ground black pepper
3 cups loosely packed fresh baby spinach
1 1/2 cups grape tomatoes, cut in half
1/2 cup pine nuts, toasted
1/4 cup thinly sliced fresh basil
1 cup crumbled feta cheese
2 tbsps chopped fresh chives, for garnish
4 skinless salmon filets
Directions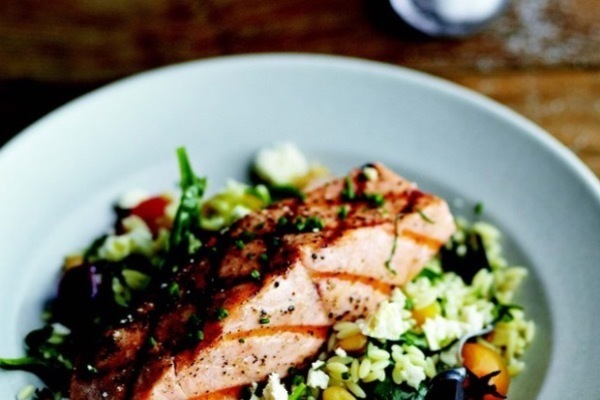 1. 1. Prepare grill for med-high cooking over direct heat.
2. 2. To make orzo salad: Bring a large saucepan of salted water to a boil over high heat. Add orzo and cook, stirring often, for about 8 mins. Drain and set aside.
3. 3. In a med bowl, whisk the vinegar, shallots, and garlic together. Gradually whisk in the olive oil. Season to taste with salt and pepper.
4. 3. In a large bowl, toss the warm orzo, spinach, tomatoes, pine nuts, and basil with the vinaigrette. Season to taste with salt and pepper. Set aside at room temperature.
5. 4. To cook the salmon; Coat the salmon with olive oil and season with salt and pepper. Oil the cooking grate. Place the salmon on the grill with the top right corner of each filet facing the 2 o'clock position and cook for 4 mins, without moving the salmon. (This will help give the salmon a good sear of nice grill marks and help it release from the grate) Using a thin metal spatula, staring at the corner of each filet nearest you, flip the fillets over. Grill for about 2 mins. Remove from grill.
6. 5. Mound the salad on 4 dinner plates. Sprinkle with the feta cheese. Top with the salmon, sprinkle with the chives, and serve.
main courses October 05, 2016 04:14
Share the recipe with your friends
No one has liked this recipe.
0 comments