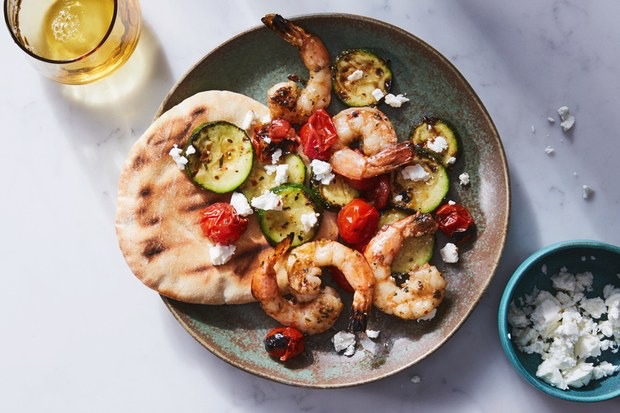 1 large garlic clove, finely grated ( I used more of course)
2 tsp finely chopped oregano
3/4 tsp kosher salt
1/4 tsp crushed red pepper flakes
2 tbsp olive oil, plus more for grill basket
10 jumbo shrimp, peeled, deveined, tails left on
1 med zucchini, sliced into 1/4 inch rounds
1 pint cherry tomatoes
2 naan breads or pitas
1/2 cup crumbled feta
small can pitted black olives
Tzatziki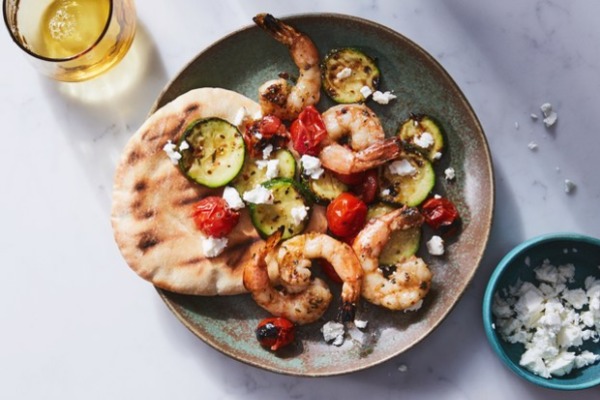 1. Prepare grill for high heat. Whisk garlic, oregano, salt, red pepper, and 2 tbsp oil in a large bowl. Add shrimp, zucchini, and tomatoes and toss to coat.
2. Brush wires of grill basket with oil, then add shrimp mixture. Place grill basket on grill and cook, turning often, until shrimp are fully cooked through and zucchini and tomatoes are lightly charred, about 6 to 8 mins (depends on size of basket).
3. Meanwhile, grill bread just until warm and toasted.
4. Transfer shrimp mixture to a large bowl and squish a few tomatoes and toss. Divide amongst plates and top with feta and olives. Serve with pita and tzatziki.
5. So can also substitute the bread for orzo or spaghetti to make a great pasta. Or add anything else you would like such as yellow pepper, red onion, etc.
main courses August 16, 2018 03:18
Author Epicurious
Share the recipe with your friends
No one has liked this recipe.
0 comments