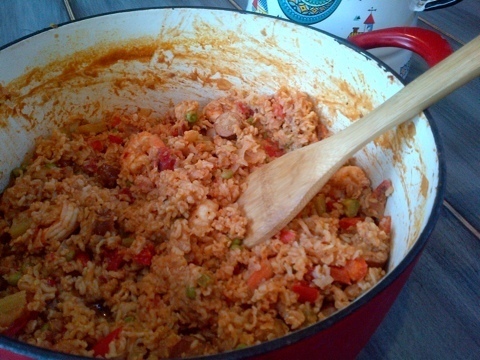 Ingredients
1 TBS olive oil
1 large onion, diced
1 red pepper, diced
1 green pepper, diced
3 stalks celery, diced
2 cloves garlic, minced
1/2 tsp salt, plus more to taste
1/4 tsp pepper, plus more to taste
1 tsp paprika
1/2 tsp dried oregano
1 hearty stem of fresh thyme
1 fresh bay leaf
1/4 tsp cayenne pepper
1 TBS tomato paste
6 ounces smoked sausage (turkey/chicken/pork - whatever you want)
2-1/2 cups chicken stock
1 14 ounce can diced tomatoes with juices
1 cup uncooked brown rice (if doubling, use 2.5 cups)
1 lbs peeled and deveined shrimp
1 cup peas
hot pepper sauce, for serving
1. Heat the oil in a large dutch oven over medium high heat. Add the onion, peppers, and celery and saute until they begin to soften, about 8 minutes. Add in the garlic towards the end. Mix the rest of the ingredients, up until the tomatoes. Salt to taste. Bring to a boil then stir in the rice. Cover and reduce heat and simmer for about 20 minutes or until the rice is done and most of the liquid is absorbed. (Note - if you are doubling the recipe this part will take longer, I'd check after 30 min or so).
2. Add the shrimp and peas and cook covered for another 5 minutes.
3. Scoop into deep bowls and top with hot sauced if desired.
main courses, jambalaya January 22, 2016 00:00
Author a-life-from-scratch.com
Share the recipe with your friends
No one has liked this recipe.
0 comments