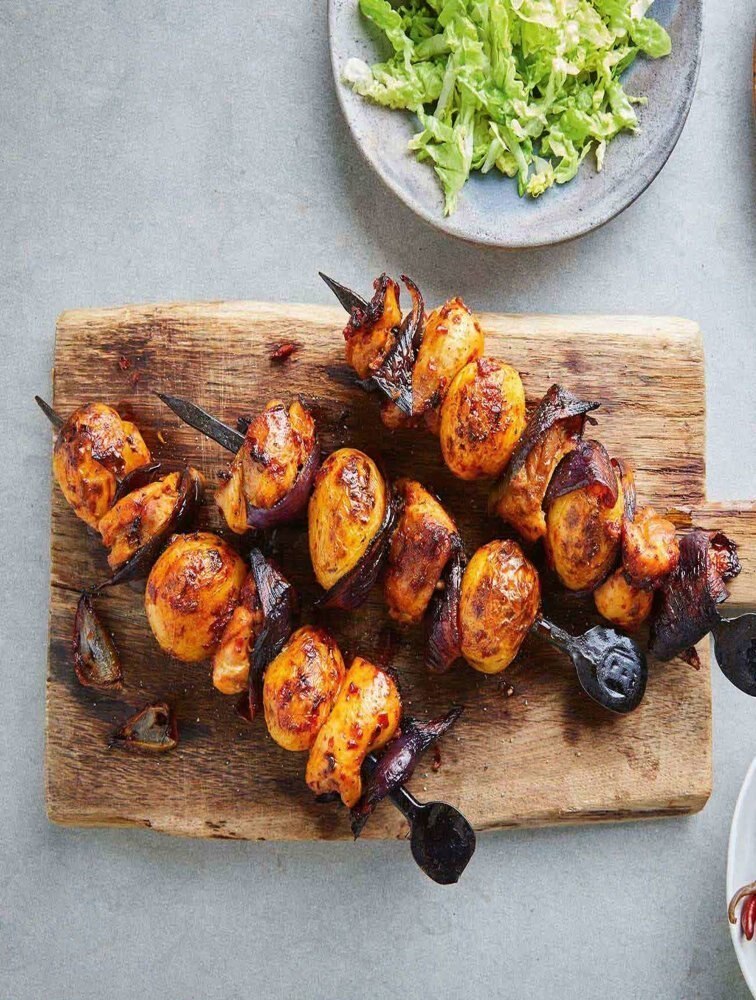 Ingredients
for 4 servings
1 lb baby potatoes
2 cloves of garlic
1 lemon
1 tbs harissa
olive oil
6 heaped tbs Greek-style yogurt
1 large red onion
4 boneless chicken thigh fillets
2 little gem lettuces
Prep. Time → 20 min
Cook Time → 55 min
1. 1. Cook the potatoes in a pan of boiling water for 15 minutes, or until just cooked. Finely grate the garlic cloves and lemon zest, then stir together in a small bowl with the harissa, 1 tbs of olive oil, 2 tbs of yogurt, a good squeeze of lemon juice and a pinch of black pepper. Drain the potatoes and allow to cool slightly.
2. 2. Halve, peel, and cut the onion into wedges, then separate into petals. Cut the chicken thighs into quarters, and then toss everything together in the dressing.
3. 3. Preheat the oven to 400°F. Thread the potatoes, chicken and onion up on 4 skewers, mixing them up, and placing on a baking tray as you go. Bake for 40 minutes, basting and turning halfway through, or until gnarly and cooked through.
4. 4. Finely shred the lettuce. Serve the skewers with some warm flatbreads, if you like, a dollop of the remaining yoghurt, a drizzle of olive oil, a handful of lettuce and the remaining lemon cut into wedges. Serve with a few pickled chillies on the side, if you like.
main courses, chicken, mediterranean March 24, 2020 05:37
Author https://woolworths.com.au/shop/re...
Share the recipe with your friends
No one has liked this recipe.
0 comments