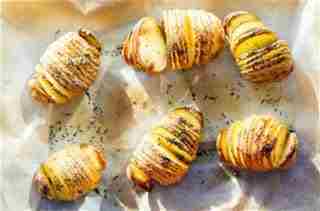 Ingredients
for 4 servings
4 Russet Potatoes
4 TBSP melted butter
2 tsp Garlic powder
1/4 Cup Parmesan cheese
4 strips of bacon cooked & crumbled
Parsley to taste
Prep. Time → 10 min
Cook Time → 55 min
1. Preheat oven to 425 degrees.
2. Slice potatoes hassle back style by making slices 1/8" apart being careful not to slice all of the way through (keep the potato connected). You can place two wooden spoons (or chopsticks) as a guide on the sides of the potato.
3. Drizzle potatoes with half of the butter and half of the seasoning.
4. Bake for 30 minutes then remove and add second half of butter and seasoning. Add half of the parmesan cheese and return to the oven for 20 - 25 more minutes, making sure the potato is fully cooked.
5. Remove potato from the oven, top with bacon, parsley and more parmesan.
side dishes March 06, 2021 21:38
Share the recipe with your friends
No one has liked this recipe.
0 comments