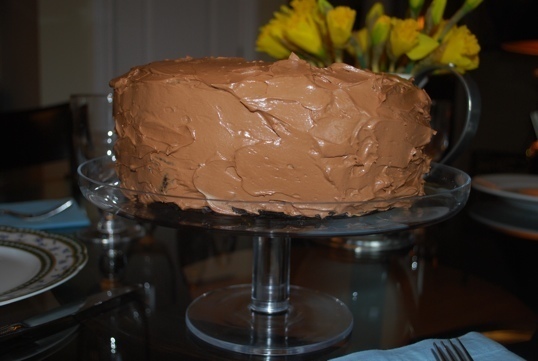 Ingredients
INGREDIENTS FOR CAKE

1 & 3/4 cups flour, plus more for dusting
2 cups sugar
3/4 cup cocoa powder
2 tsp baking soda
1 tsp baking powder
1 tsp kosher salt
1 cup buttermilk, shaken
1/2 cup vegetable oil
2 extra large eggs, at room temperature
1 tsp vanilla
1 cup freshly brewed coffee
INGREDIENTS FOR FROSTING

6 ounces good semi sweet chocolate
2 sticks unsalted butter, softened
1 egg yoke, at room temperature
1 tsp vanilla
1 & 1/4 cup sifted confectioners sugar
1 TBS instant coffee powder
2. Preheat oven to 350 degrees.
3. Lightly butter two 8 inch round cake pans. Line with parchment paper. Butter parchment paper and lightly dust with flour.
4. Sift together the flour, sugar, cocoa, baking soda, baking powder, and salt in an electric mixer. Combine the buttermilk, vegetable oil, eggs, and vanilla in a separate bowl. Slowly add the wet mixture to the dry mixture. On low speed, add in the freshly brewed coffee until just combined.
5. Divide the cake batter evenly among the cake pans and bake for 35 - 40 minutes, until a toothpick comes out clean. Cool in the pans for 30 minutes then invert onto a wire rack and cool completely.
6. DIRECTIONS FOR FROSTING
7. Slowly melt chocolate in a heat proof glass bowl over a pot of simmering water on the stove.
8. In an electric mixer fitted with a paddle attachment beat the butter on high for 3 minutes, until light and fluffy. Add in the egg yoke and vanilla and continue to beat for 3 minutes. Slowly add in the confectioners sugar then beat at medium speed. Dissolve the coffee powder in 2 tsp of the hottest tap water. Slowly add in the dissolved coffee and melted chocolate and mix on low speed until just combined. Don't beat!
9. TIME TO FROST THESE BAD BOYS
10. Take one of the cooled cakes and place rounded side down on a cake pedestal. Using a knife or spatula, spread the icing all over the cake. Take the second cooled cake and place rounded side up on top of the first frosted cake. (So, both of the cakes flatest sides will be touching in the middle). Finish frosting the cake all over.
desserts, cake February 25, 2016 01:19
Author a-life-from-scratch.com/
Share the recipe with your friends
No one has liked this recipe.
0 comments