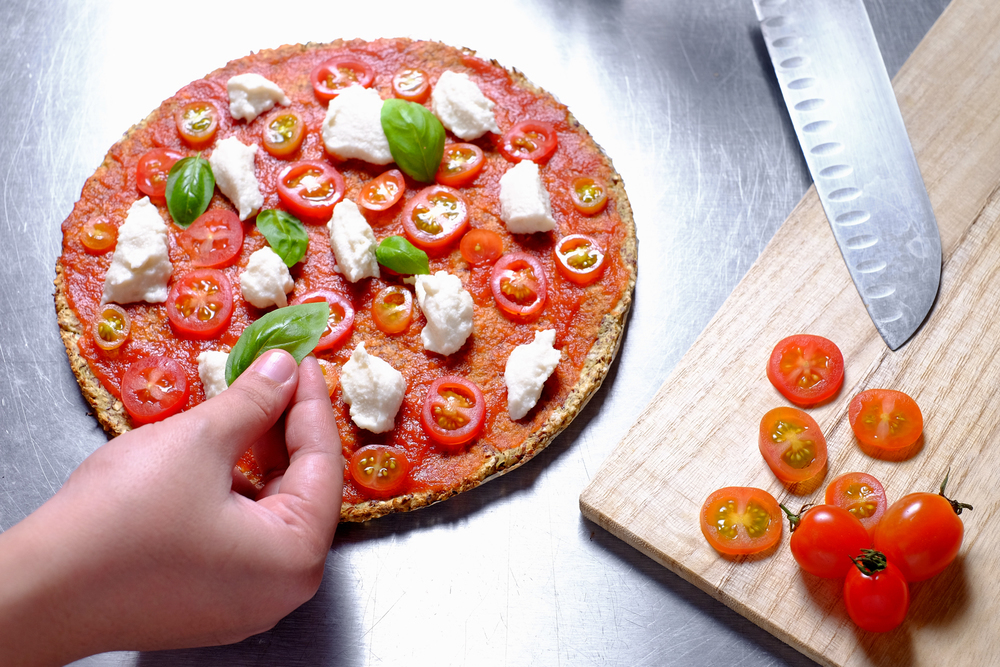 For the Pizza Crust
500g/17.5oz cauliflower florets
20g/0.75oz flax meal
62.5ml/2fl oz water
50g/2oz rolled oats (gluten-free optional)
1 tsp. dried rosemary
¼ tsp. garlic powder
½ tsp. salt
For the Marinara Sauce
1 tbsp. olive oil
20g/0.75oz garlic, finely chopped
400g/14oz can crushed tomatoes
1 tsp. red pepper flakes
2 tbsp. balsamic vinegar
1 tsp. maple syrup
1 tsp. dried oregano
1 tsp. salt
½ tsp. pepper
Prep. Time → 20 min
Cook Time → 40 min
2. Line a baking sheet with parchment paper.
Whisk together flax meal and water in a bowl. Leave for 5 minutes.
Steam cauliflower until fall-apart tender. Let it cool then squeeze out as much of the moisture through a fine cheesecloth.
Grind rolled oats, dried rosemary, garlic powder, and salt in a food processor to a flour-like texture.
Combine the pressed cauliflower and flax meal mixture. Stir well.
Stir in the oat mixture.
Form a ball and put it on top of the lined baking sheet.
Press it down to a circle. Lay a sheet of parchment paper on top and roll it flat to about ¼ inch thick using a rolling pin.
Bake for 15 minutes at 230C/450F.
3. Make the Marinara Sauce
4. Sautee garlic in olive oil.
Add all remaining ingr
main courses, dairy-free, dinner, gluten-free, lunch, mains, recipes, vegan, vegetarian September 21, 2017 08:39
Author mynutricounter.com/homemad...
Share the recipe with your friends
No one has liked this recipe.
0 comments