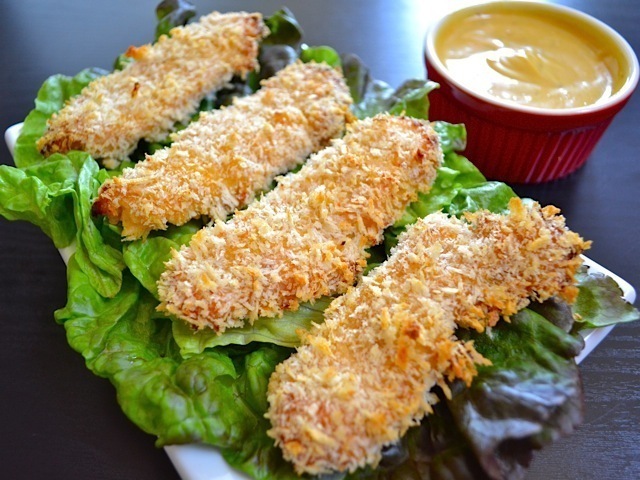 Ingredients
for 4 servings
2 lg. chicken breasts
1 cup mayonnaise
1/3 cup honey
1/4 cup mustard (any variety)
1/4 tsp garlic powder
1/4 tsp paprika
to taste salt and pepper
2 cups panko bread crumbs
Prep. Time → 30 min
Cook Time → 30 min
1. In a bowl, combine the mayonnaise, mustard, honey, garlic powder, paprika, and some freshly ground black pepper. Stir until everything is evenly combined then taste and season with salt to your liking. Divide the sauce into two portions. Half will be the marinade and half will be the dipping sauce - it MUST stay separate. Keep the sauce refrigerated until ready to use.
2. Trim the chicken breasts of excess fat and slice diagonally into 1/2 inch thick strips. You should get about 14-16 strips total. Place the sliced chicken in a bag or bowl with half of the honey mustard sauce and stir to coat. Refrigerate for at least 30 minutes or over night.
3. Preheat the oven to 400 degrees. Prepare a dredging station by lining a large baking sheet with foil and then placing two wire cooling racks on top. The wire racks keep the strips lifted as they bake so that the bottoms will crisp too. Coat the wire racks with non-stick spray. Pour the panko crumbs into a wide, shallow bowl.
4. One by one, coat the chicken strips with panko crumbs. Do not wipe off excess honey mustard sauce before coating with panko, the sauce helps it adhere. Place the strips on the wire rack as you bread them. Continue until all of the strips are coated with panko crumbs. Discard the leftover honey mustard sauce that the chicken was marinating in.
5. Bake the chicken strips in the oven until the crumbs have turned golden brown (about 30 minutes). To Fry: Alternatively, heat about 1/2 inch of vegetable oil in a large skillet over medium-high heat until the surface of the oil looks wavy. Fry a few strips at a time on each side until they are golden brown and crispy. Drain on a plate covered with paper towels.
6. Serve warm with the reserved half of the honey mustard sauce.
starters, chicken, kids July 05, 2011 16:20