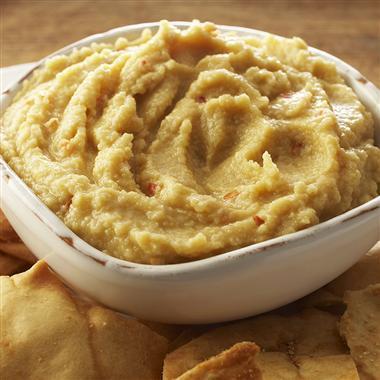 Ingredients
1 can Chickpeas; Drained.
3 Cloves of Garlic.
Parsley or Chives or other herb of your choice.
2 tablespoons Lemon's Juice.
6 tablespoons Vegetable Broth (Lower-Sodium & Oil-Free kind) or just Water.
Salt & Black Pepper.
1 teaspoon Cumin (optional).
Roasted Red Bell Pepper (optional).
Dippers
Carrots (optional).
Red or Green Bell Pepper stripes (optional).
Cucumbers slices (optional).
Celery (optional).
Zucchini slices (optional).
1. Place everything in a food processor or blender and blend.
2. Taste and add more spices if you'd like. Also, add more Vegetable Broth or Water as needed.
3. I love to use Hummus as a dip for my Carrots or in sandwiches.
side dishes, hummus, easy, quick, chickpea, garlic, lemon, vegan, vegetarian, healthy, carrot, vegetable broth, celery, chives, cucumber, parsley, zucchini, cumin, bell pepper April 10, 2011 11:16