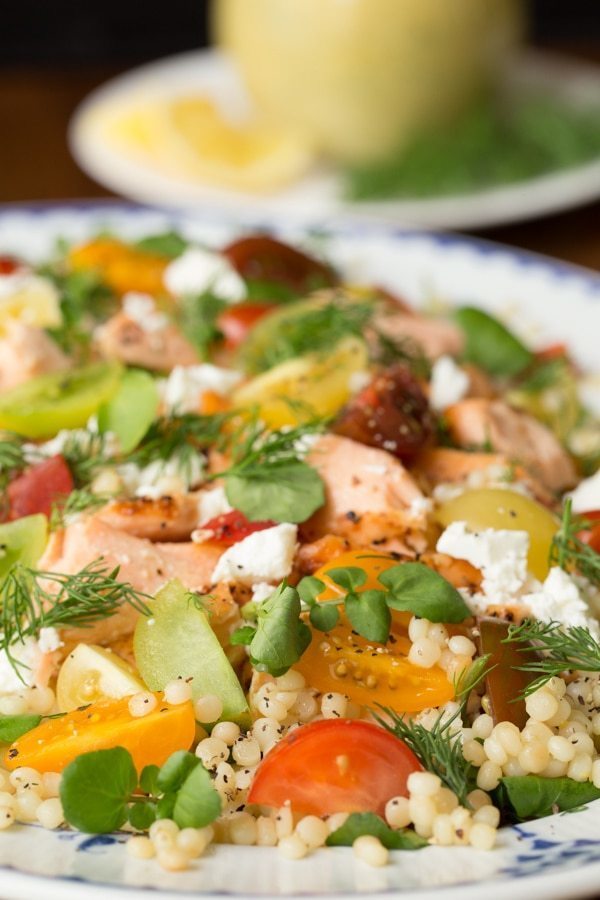 Ingredients
2 cups low sodium chicken broth
1/2 tsp salt
1 cup uncooked Israeli couscous
4 skinless salmon fillets
salt and pepper
watercress, baby arugula or baby spinach about 6 cups
1 cup cherry or grape tomatoes halved or quartered if larger (looks good if different colours)
1//2 cup crumbled feta
1/4 cup chopped fresh dill (or more)
lemon dill dressing (recipe on this site as well)
what ever other toppings you would like such as toasted pine nuts, other fresh herbs etc.
1. Preheat oven to 450F. Line a sheet pan with foil and spray lightly with cooking spray.
2. In a med pot bring chicken broth and 1/2 tsp salt to a boil. Add the couscous and reduce the heat to med-low. Cover and cook until couscous is just tender, 8-10 mins.
3. Drain the couscous in a fine sieve. Drizzle lightly with olive oil and stir with a fork to prevent clumping. Set aside.
4. While couscous is cooking, prepare salmon. Place salmon fillets on prepared pan spaced 1 inch apart. Season both sides lightly with salt and pepper. Drizzle 1 tsp of the Lemon Dill Dressing on each fillet. Spread with the back of a spoon to coat the top surfaces.
5. Bake for 6-10 mins until salmon is slightly firm to the touch and the internal temp of the salmon reaches 125-135F. Remove from oven and let sit for 2 mins (the temp will rise bit during resting).
6. Flake salmon into large chunks with two forks. Drizzle flaked salmon with 1-2 tbsp of the Lemon Dill Dressing and toss gently to coat.
7. To assemble salad, combine watercress, arugula or spinach with the Israeli couscous in a large bowl. Drizzle with 2 tbsp of the Lemon Dill Dressing.
Turn out couscous mixture onto a large serving platter or individual plates. Top with flaked salmon, tomatoes and feta. Drizzle with a bit more dressing and sprinkle generously with fresh dill.
main courses May 11, 2021 23:04