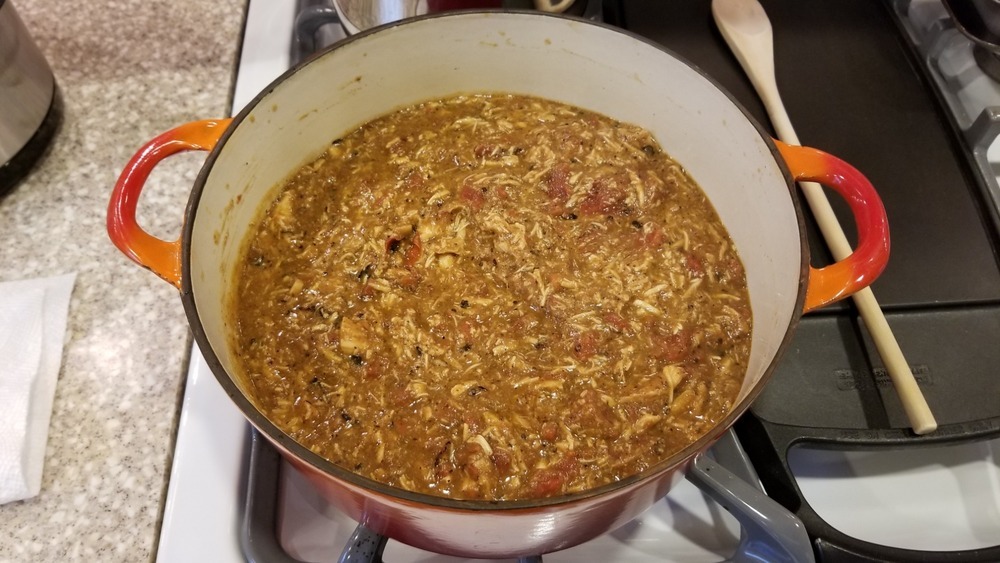 Ingredients
for 8 servings
2 lb boneless, skinless chicken thighs or breasts
1/2 C coconut oil, liquefied
1/2 C flour
2 15-oz cans diced tomatoes
1 12-oz bottle of beer
4-6 T Cajun seasoning
1 t gumbo file powder
1 T molasses or maple sirup
4-5 bay leaves
Prep. Time → 60 min
Cook Time → 360 min
1. The night before, season chicken on both sides with Uncle Chris seasoning, place in a large bowl, cover and refrigerate overnight.
2. In a heavy pot. add coconut oil and, if necessary, heat on low until melted. Turn up heat to medium low, add flour, mix thoroughly with a wooden spoon and continue to stir constantly while heating. Lower heat if roux begins to cook too fast. Cook and stir until the roux is the color of peanut butter.
3. When your roux is done, add tomatoes, beer, Cajun seasoning, gumbo file powder and maple sirup and mix well.
4. Spray the inside of a crock pot with non-stick cooking spray and add chicken. Pour your roux/tomato/spice blend over the chicken and add bay leaves.
5. Place the lid on your crock pot and cook on high for 1 hour, then reduce heat to low and cook for an additional 5 hours.
6. When your chicken is cooked through, remove the bay leaves, take two forks, shred your chicken and stir until mixed well.
7. Spoon mixture over rice over rice, tortilla chips, or on a bun and enjoy! Serve with a side of garlic toast.
main courses, cajun, chicken, poultry, slow-cooker, stovetop October 13, 2018 22:28
Author 4you-withlove.com/2013/03/...
Share the recipe with your friends
No one has liked this recipe.
0 comments