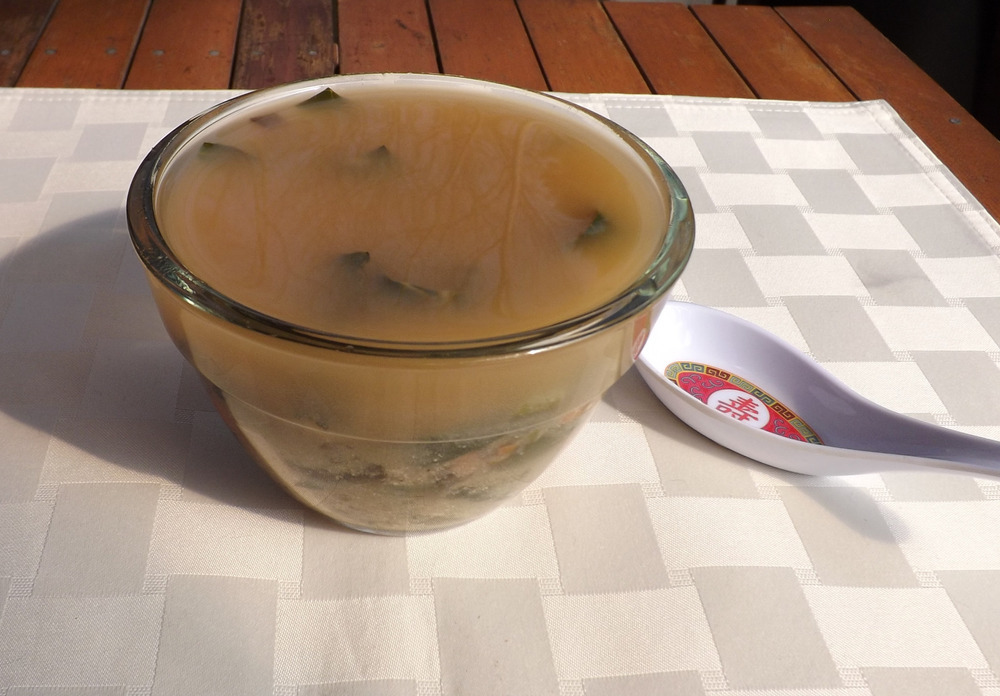 Ingredients
for 6 or more people
4 oz Mild Yellow Miso Paste
2 tbsp Golden Mountain Sauce
1 sheet Dried Nori (cut into shreds)
1 packet Bonito Flakes
2 medium Carrots (sliced fine)
8 oz Superfirm Tofu (petite diced)
4 Scallions (sliced fine)
4 cups Vegetable Broth
6 cups H2O
2 cups shredded Greens (Kale, Brussels Sprout, Raab/Rapini, etc.)
3/4 cup dried Shiitake Mushroom (cut fine)
1 or 2 splashes of Fish Sauce (Squid brand or comparable)
Prep. Time → 25 min
Cook Time → 20 min
1. Bring 5 cups H2O to a boil. Add bonito flakes and 1/3 sheet shredded nori. Stir well and remove heat source. Let steep for 3 minutes.
2. Strain particulates from liquid and pour into at least a 6 quart stock pot. Discard strained solids.
3. Add broth, golden mountain sauce, carrots, tofu, shiitake mushrooms, and fish sauce. Stir well. Bring to a boil and continue to boil for 5 minutes, stirring occasionally.
4. Remove heat source then add greens and scallions. Stir well and allow mixture to begin cooling.
5. Use remaining H2O to dissolve miso paste into a solution, then add to stock pot while stirring well.
6. Note* Do not bring miso back to boil! Miso is a culture of beneficial organisms and boiling would result in death!
7. Serve immediately. Garnish with fresh scallion.
8. Leftovers can be reheated (just below boil), or consumed cold.
main courses, best, delicious, healthy, hearty, japanese, light, miso, superior, tasty, vegetables, yummy, serious, probiotic January 14, 2016 19:20
Author Original recipe developed from hybridizing multiple sources.
Share the recipe with your friends
No one has liked this recipe.
1 comment