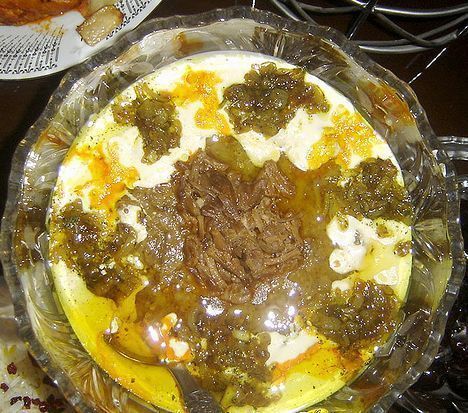 8 small eggplants, peeled
1 large or 2 medium yellow onions
2 tbsp mint leaves, finely chopped (dried mint also works here)
1 tbsp tomato paste
10 oz. kashk
Prep. Time → 10 min
Cook Time → 20 min
1. In a few tablespoons of canola or vegetable oil, fry the eggplants in a heavy dutch oven over medium-high heat until softened. (You can make this more healthful by roasting the eggplants in their skins until they collapse; peel, then proceed as below)
2. Remove the eggplant from the pot, and fry the onions until golden brown.
Remove all but two tablespoon of the onions from the pot, and add the mint. Continue to fry until the mint is fragrant, and the onions are medium-dark brown and starting to crisp a bit. Remove and set aside; these will be used for garnish.
3. Return the onions and eggplants to the pot. Add the tomato paste with 1/3 c. of water and season lightly with salt & pepper (the kashk is fairly salty, so be judicious).
4. Using a wooden spoon or potato masher, mash the eggplants until slightly smoothed, but still nicely textured.
5. Add one cup of kashk, stirring briskly to incorporate. Re-season, if necessary.
Garnish with the remaining kashk and the fried onion/mint mixture.
6. Serve warm or at room temperature with pita or lavash bread.
starters June 02, 2011 06:00
Author Martik