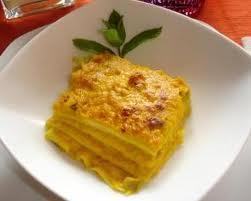 Ingredients
for 6/8 persone
500 g di lasagne
1 kg di zucca a polpa dolce e consistente
1 mazzetto di rucola
10 foglie di basilico (o un pò di maggiorana)
100 g di parmigiano grattugiato
1 litro di besciamella
una noce di burro
sale
pepe
1. Sbucciate la zucca, tagliatela a dadini, lavatela un pò e mettetela in una pentola con poca acqua (ca 3 bicchieri) e un pugno di sale grosso.
Fate cuocere fino a renderla molto morbida (schiacciabile con una forchetta).
Scolate e trasferite in una zuppiera bella grande.
2. Con il mixer a immersione preparate una crema frullando: la zucca, la besciamella, la rucola, il basilico (o la maggiorana), una parte del parmigiano grattugiato, la noce di burro, un pizzico di sale e un pizzico di pepe.
3. In una teglia spargete qualche cucchiaiata del composto di zucca e create il primo strato con le sfoglie di lasagna, quindi coprite le sfoglie con altra salsa e così via (sfoglie - salsa) fino a terminare gli ingredienti. Fate l'ultimo strato di salsa e completate con una abbondante spolverata di parmigiano grattugiato.
4. Infornate per 30/35 min. a 200°
starters January 16, 2013 17:38
Author l'ho fatta io
Share the recipe with your friends
No one has liked this recipe.
0 comments