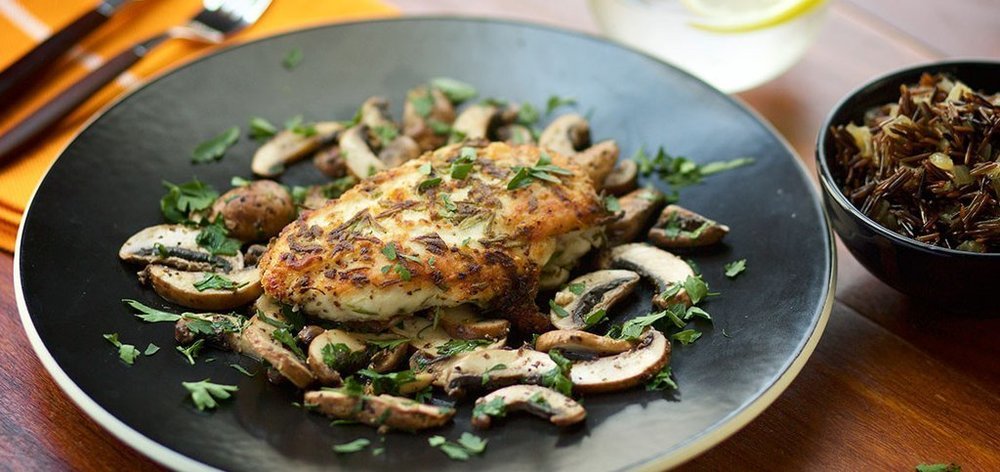 1 lemon
1/4 ounce fresh rosemary
1 clove garlic
1/4 ounce fresh parsley
8 ounces cremini mushrooms
2 tablespoons all purpose flour
1 teaspoon salt, divided
1 teaspoon papper, divided
2 chicken breasts (skinless and boneless)
1 tablespoon olive oil
2 tablespoons white cooking wine
Prep. Time → 20 min
Cook Time → 50 min
1. PREPARE MARINADE: Juice the lemon into a medium bowl and remove seeds. Remove rosemary needles from stems and discard. Finely chop rosemary; add to the bowl with the lemon juice. Roughly chop garlic; add to bowl. Whisk 1 tablespoon of olive oil and set lemon marinade aside.
2. PREPARE INGRiDIENTS: Remove parsley leaves from stems and discard stems. Roughly chop parsley leaves; set aside. Remove mushroom caps from the stems and discard stems. Slice the caps into 1/2 inch pieces; set asside.
3. PREPARE CHICKEN: While the rice is cooking, pour the flour onto a plate. Season with 1/2 teaspoon each of salt and paper; stir to combine. Pat dry the chicken breasts with paper towels and season with 1/4 teaspoon each of salt and pepper. Add to the bowl with the lemon marinade and evenly coat the chicken. Cover with plastic wrap, and let marinate for 15 to 30 minutes.
4. COOK CHICKEN: Remove the chicken from marinade and discard the marinade. Pat dry the chicken again with paper towels. Dredge lightly in the seasoned flour, shaking off excess. Heat a medium saute pan over medium high heat and add 1 tablespoon olive oil. When the oil is hot, add the chicken breasts and sear on each side for 4 to 5 minutes, intil cooked through. Remove the chicken from the pan and place on a plate; keep warm for plating.
5. SAUTE MUSHROOMS: Add the mushrooms to the pan and saute for 2 to 3 minutes over medium high heat. When mushrooms have softened slightly, add white cooking wine, parsely and 1/4 teaspoon each of salt and pepper. Continue to stir until the wine has evaporated and the mushrooms are tender, about 5 to 10 minutes. Return the chicken to the pan and spoon the mushrooms over the chicken. Remove from heat and set aside for plating.
6. PLATING: Place the wild rice in the center of two plates. Place the Lemon and Garlic Chicken over the rice. Top with the remaining mushrooms and sauce. Enjoy!
main courses, chicken, mushrooms, rice November 02, 2016 22:07
Author https://chefd.com/collections/all...
Share the recipe with your friends
No one has liked this recipe.
0 comments