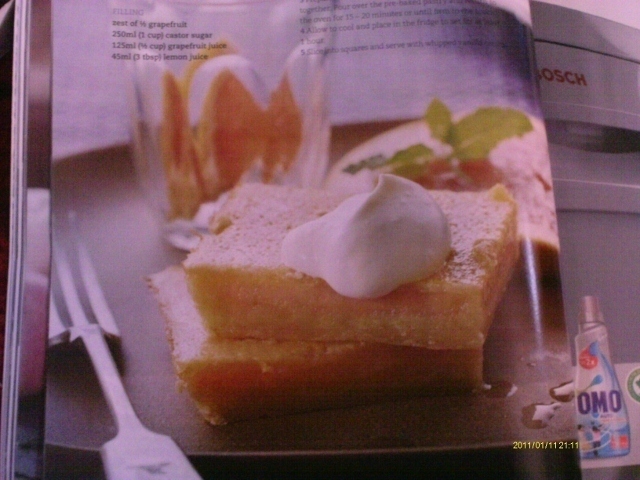 Ingredients
for 12 6cm X 6cm squares
Pastry
100g soft butter
60ml castor sugar
250ml cake flour
pinch of salt
5ml vanilla essence
Filling
zest of half grapefruit
250ml castor sugar
125ml grapefruit juice
45ml lemon juice
45ml self raising flour
4 large eggs
whipped vanilla cream, to serve
Prep. Time → 15 min
Cook Time → 30-40 min
1. preheat oven to 160C and grease 30cm X 20cm oven proof dish
2. for pastry:
cream butter and sugar together for 1min.
3. whisk in flour, salt and vanilla essence.
4. Press pastry into greased dish and bake for 15min until golden brown
5. for filling:
whisk all ingredients together
6. pour over pre-baked pastry and return to oven for 15-20min or until firm to the touch
7. allow to cool and place in fridge to set for at least 1 hour
8. slice into squares, if desired
desserts, dessert, lemon, pudding, grapefruit April 22, 2012 12:18
Author Food and Home Entertainment Magazine, May 2012 Issue
Share the recipe with your friends
No one has liked this recipe.
0 comments