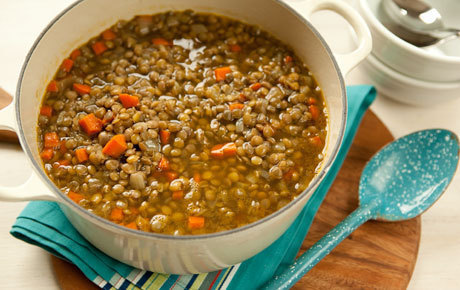 Ingredients
for 1-2 people.
1 Can of Lentils (Lower-Sodium) or any other Canned Beans of your choice.
Tablespoon of diced Onion.
Tablespoon of diced Green Bell Peppers.
Tablespoon of diced Red Bell Peppers.
Clove of Garlic (Minced).
Frozen Vegetables (Peas, Carrots, Green Beans, and Corn) mix.**
8 Quail Eggs (optional).
Vegetable Broth (Lower-Sodium & Oil-Free kind).
Sea Salt.
**Use any mix of Vegetables you like but please do not get a mix that has Okra in it.
1. Get a small pot and start boiling some water for the Quail Eggs.
2. In another pot (I use a pressure cooker pot), take a tablespoon of diced Onions, tablespoon of diced Green Pepper, and a tablespoon of diced Red Pepper. Place it all into the pot with a small amount of Vegetable Broth; enough to cover the bottom. Then Cook until the onions become more transparent.
3. Toss in the minced Garlic clove and cook for a minute.
4. Put the Quail Eggs in the small pot of boiling water and cook it for four minutes.
5. Back in the other pot, throw in the lentils with its liquid is best; I typically do not drain the can of lentils. That is why using lower-sodium is best. Place the lentils in the pot and add as much water as need to make it more of a soup consistency.
6. I add in a bunch of Frozen Vegetables and let it cook with the soup for a few minutes.
8. While the Frozen Vegetables cook in the soup and the Quail Eggs have boiled for four minutes, drain the small pot and peel the Quail Eggs like you would do with any boiled egg.
9. Serve the Lentil soup along with some of the Quail Eggs.
main courses, beans, carrot, corn, garlic, green beans, healthy, lentils, onion, peas, soup, quail eggs, vegetable broth, vegan, bell pepper February 17, 2012 21:36
Share the recipe with your friends
No one has liked this recipe.
0 comments