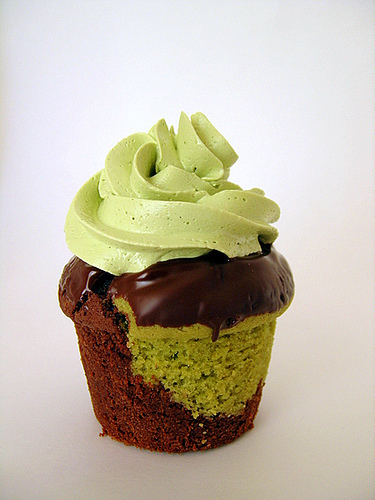 Ingredients
for Makes 10 - 12 cupcakes
For the cupcakes
8 Tbsp butter, melted
3 oz dark chocolate, melted
3 eggs, large
3/4 cup sugar
3/4 teaspoon vanilla extract
3/4 + 2/3 cups flour, sifted
1 tsp baking powder
Pinch of salt
1.5 tsp sifted unsweetened cocoa, diluted with 2 Tbsp whole milk
1.5 tsp Matcha powder
For the ganache
3oz dark chocolate
3oz heavy whipping cream
For the Matcha Swiss Meringue buttercream
2.4oz egg whites
4.8oz sugar
5.3oz unsalted butter, room temperature
1.5 tablespoons matcha (use more or less to suit your taste)
1. For the cupcakes
Preheat oven to 350 degrees.
2. Melt the butter and set aside. Melt the chocolate using a double-boiler.
Beat the eggs with the sugar until blended. Add the melted the butter and vanill extract and mix well.
3. In a separate bowl, sift together the flour, baking powder and salt and add to the butter/egg mixture. Beat until blended, but do not overbeat.
4. Divide the batter in two halves. In the first half, add the Matcha tea, in the second the chocolate and cocoa diluted in milk. Stir each half until thorougly incorporated.
5. Spoon chocolate mixture into cupcake liners, and spoon matcha mixture on top of the chocolate. Fill liners about 1/2 – 2/3 full. You can use a toothpick or knife to gently stir the colors together for a marbled effect, or you can leave as is.
6. Bake in a preheated oven for 20-22 minutes. Test with a toothpick to make sure they are done.
7. For the ganache
Heat the whipping cream and chocolate in a small pan over low heat unti melted. Do not boil. Remove from heat and sit aside until cooler. Dip tops of cupcakes into the ganache and sit aside to let ganache harden, or put into the refrigerator to harden it quicker.
8. For the buttercream
Put egg whites and sugar into the top of a double boiler over a pan of simmering water. Whisking constantly, cook until sugar has dissolved and mixture is warm (about 160 degrees).
9. Pour heated egg whites into the bowl of an electric mixer fitted with the whisk attachment. Beat egg white mixture on high speed until it forms stiff (but not dry) peaks. Continue beating until fluffy and cooled, about 7 minutes.
10. Switch to the paddle attachment. With mixer on medium-low, add butter two tablespoons at a time, beating well after each addition. Increase speed to medium-high; continue beating until frosting appears thick, about 3 minutes. Reduce speed to low; add matcha powder and continue beating 2 minutes to eliminate air bubbles.
desserts, cake, cupcakes, dessert, matcha, green tea, chocolate, vegetarian December 15, 2011 21:46