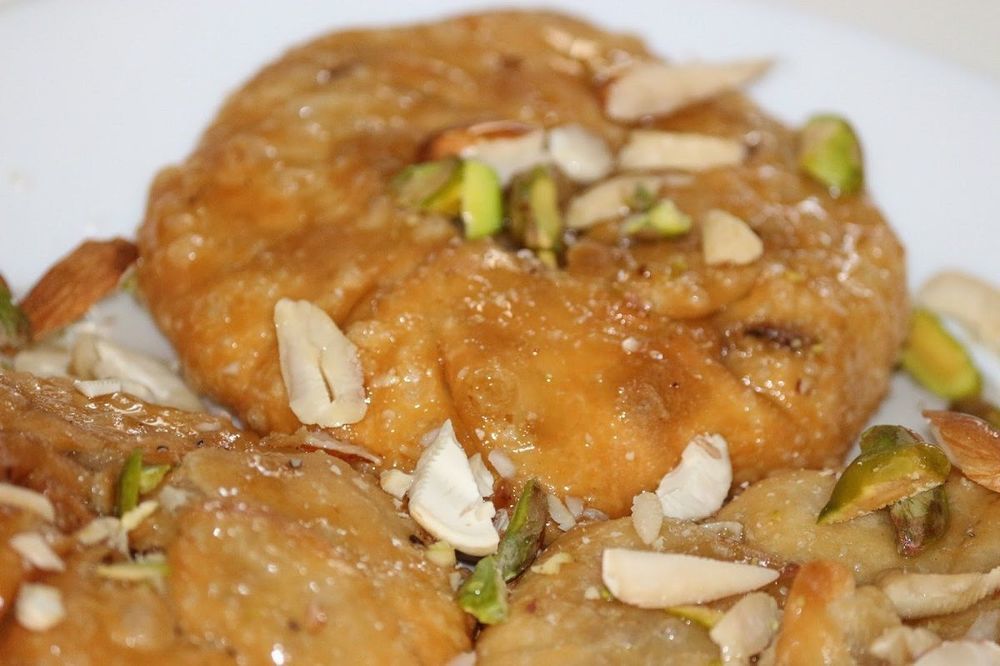 Ingredients
1 cup all purpose flour maida
2 tbsp butter/ghee
Lukewarm water as needed
Oil for frying
Filling
¾ cup mawa
¼ cup Mixed Nuts (almonds pistachios coarsely ground)
¼ teaspoon Cardamom crushed
3 tbsp sugar
Syrup Optional
1 cup sugar
½ cup Water
1/8 tsp crushed cardamom
Few strands of Saffron
Prep. Time → 30 min
Cook Time → 25 min
1. Mix flour and clarified butter in a bowl. Knead to make a firm but soft dough, gradually adding water.
Set the dough aside for 10 minutes and cover it with a damp cloth.
Making the syrup
Boil the sugar and water on medium heat.
As the sugar comes to boil, add saffron and cardamom.
Heat on medium flame until the syrup is about one thread or 220 degrees F. Set aside.
Making the filling
Mix the cream and milk powder in a frying pan. Cook on medium heat until it becomes consistency of soft dough, this should take about 3-4 minutes. Stir continuously so that the mawa does not burn on the bottom of the pan.
Now add the nuts, sugar, and cardamom powder to the mawa.
Mix well and cook for about 2 more minutes until mixture is consistency of soft dough. Keep aside and let it cool.
Making the kachoris
Knead the dough and divide it into roughly 18 equal parts.
Roll each ball into a disc of about 2" diameter.
Take one of the rolled dough in your palm and place 1 tablespoon of filling in the center.
Pull the edges of the dough to wrap the filling. Fill all the balls in the same manner. Let the filled balls sit for 3 to 4 minutes before pressing.
In the frying pan heat the oil on medium high.
Place the kachoris on a clean and dry surface with the seam facing up. Using the base of your palm, slowly flatten them into approximately 3" circle.
Slowly drop the kachoris in the oil, and fry them in batches on medium heat.
Once they are puff up, slowly turn them over.
Fry until golden-brown on all sides, about 5-6 minutes.
Just before serving, drizzle the kachori with about 2 tablespoons of hot syrup. Garnish them with sliced pistachios.
desserts, kachori, mawa, recipe, snack October 10, 2018 07:18