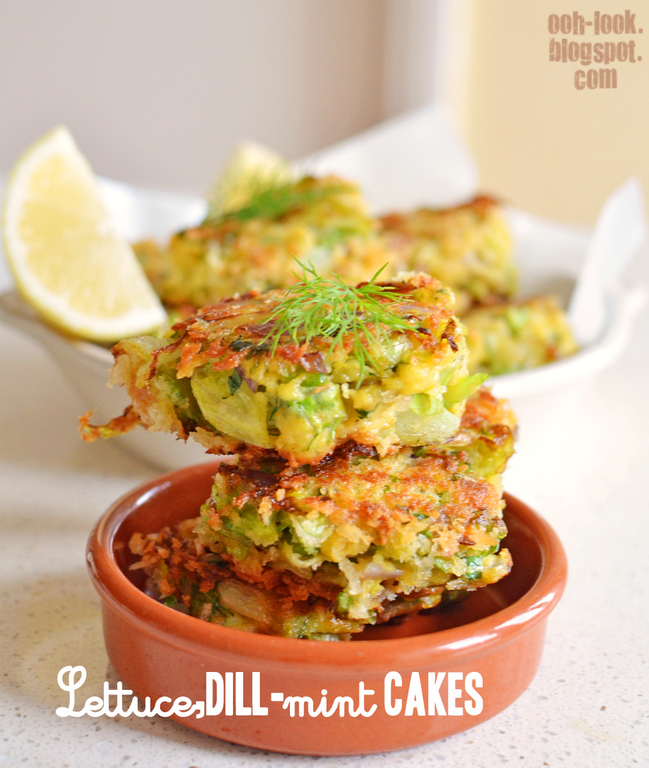 Ingredients
for 18-20 cakes
4 firmly packed cups (240g) finely
shredded cos lettuce
4 eggs
1 cup (160g) finely chopped red onion
4 cups (280g) fresh white breadcrumbs
70g parmesan, finely grated
2 tbs finely chopped dill
2 ½ tbs finely chopped mint
1 cup (100g) fine dry breadcrumbs
Olive oil, to shallow-fry
Lemon wedges and good-quality
mayonnaise, to serve
Prep. Time → 70 min
Cook Time → 5 min
1. In a large bowl, toss lettuce with 2 tsp salt.
2. Tip it into a colander and leave it to drain for 1 hour. Once drained, wrap it in a clean tea towel and squeeze the lettuce very tightly to remove as much moisture as you can, then shake the lettuce with your fingers to fluff it up a bit. Set aside.
3. Whisk eggs in a large bowl until light and slightly foamy.
4. Add lettuce, onion, fresh breadcrumbs, parmesan, dill and mint, and season. Mix to combine well.
5. Line a small baking tray with baking paper. Roll small amounts of the mixture between your palms to form patties about the size of golf balls. Roll them in the dry breadcrumbs to thinly coat, then sit on the prepared tray. (You can make the patties ahead and refrigerate overnight. They still taste delicious, but they lose some of their bright green colour.)
6. Heat a shallow layer of oil in a large frypan over medium heat, then fry the patties, in batches if necessary, for 2 minutes each side or until golden brown. They should be lovely and crisp outside and tender inside. Remove with a slotted spoon and drain on paper towel.
7. Serve these either warm or at room temperature. They look great piled up on a platter - just scatter with a few extra herbs. They're terrific with just a squeeze of lemon juice, but they're best, I think, dunked into a bowl of mayonnaise.
appetizers, dill, egg, lettuce, mint, parmesan December 13, 2013 08:12
Author Millie Sherman
Share the recipe with your friends
No one has liked this recipe.
0 comments