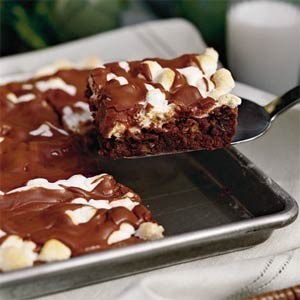 1 cup Shortening or Butter
2 cup Sugar
1/4 cup Cocoa
4 Eggs
1 tsp Vanilla
1 1/2 cup Flour
1/2 tsp Baking Powder
1 cup Coconut
::Suggestion:: Chopped Walnuts
1 7oz jar of Marshmallow (or bag of small Marshmallows)
::Icing:
3 cup Powdered Sugar, Sifted
1/2 cup softened Butter
1/3 cup Cocoa
1/2 cup Evaporated Milk
::Suggestion:: Handful of melted semi-sweet Chocolate Chips
Prep. Time → 15 min
Cook Time → 30 min
2. Cream together :: Shortening, Sugar, Cocoa.
3. Mix in :: Eggs, Vanilla.
4. Add :: Flour, Baking Powder, Coconut, (optional) Walnuts. ::Beat for 2 minutes.
5. Flour or use floured spray on a 9x13 pan
6. Spread cake mix in pan. ::BAKE for 30 minutes.
7. ::ICING:: While cake is cooking, Mix :: Powdered Sugar, Butter, Cocoa, Evaporated Milk, melted chocolate chips (chocolate is optional, but better!)
8. When cake is done, Spread Marshmallow cream (or layer with small Marshmallows) while it is still HOT.
9. Let it cool, then Frost it with icing by either pouring it on or spreading it with a spatula.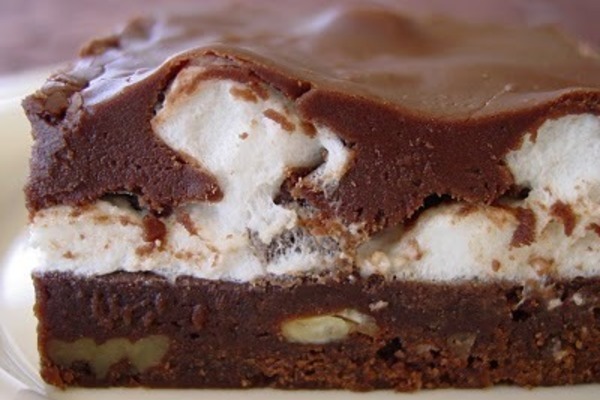 desserts, cake, chocolate, sweet, marshmallow, mississippi mud, southerm September 22, 2011 19:01
Author My Grandma