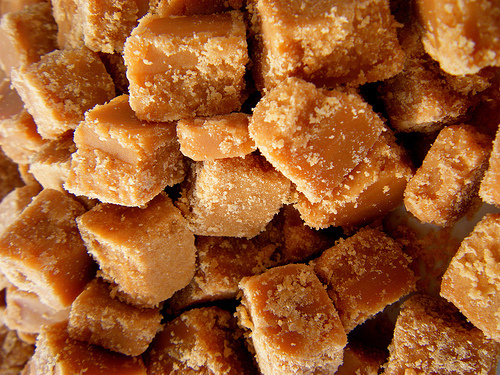 Ingredients
for 2lbs of yummy Scottish butter tablet
2lbs sugar (take some out of a 1 kg bag!!)
1 cup water
1oz butter or Marg
1 tin condensed milk (397g)
Prep. Time → 5 min
Cook Time → 25 min
1. Melt all ingredients together
Bring to the boil
Simmer for 15 to 20 mins (stirring gently ALL the time)
2. Test using the 'soft ball' stage - ie put a wee drop of the mixture ( about size of a 10p piece )in a small cup of water and then pour out the water. Use your fingers to form a soft ball. If it does, it's ready. If not simmer for another few minutes and test again.
3. Take off heat and beat for 2 minutes.
4. Pour into a Swiss roll tin and leave to set
5. Cut into bars or chunks
Store in an airtight container ...... If there' s any left long enough!!!
desserts November 12, 2011 10:35