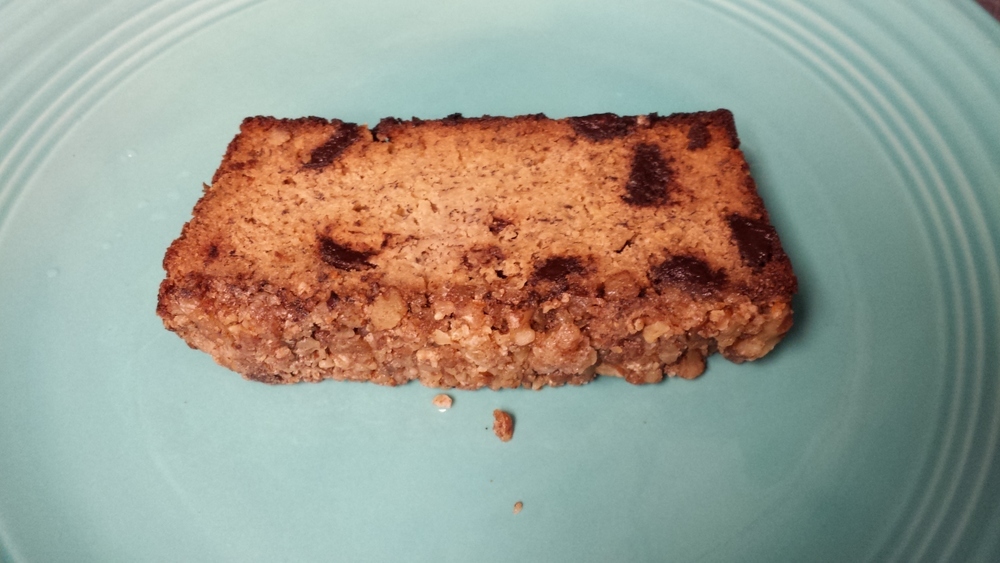 Ingredients
for 1 loaf / 8 servings
4 medium or 3 large very overripe bananas
1/2 cup coconut oil, melted
5 medium or 4 XL/Jumbo eggs, beaten
1 tsp. vanilla extract
1/2 tsp. Real Salt (TM) or other table salt
1 tsp. baking soda
1 cup almond flour
1 cup coconut flour
3/4 cup Ghirardelli 60% cacao chips (optional)
1/2 cup walnuts, finely chopped (optional
Prep. Time → 20 min
Cook Time → 75 min
1. Grease a 9x5 - inch loaf pan.
2. Preheat oven to 350 degrees.
3. Mix wet ingredients together in order listed.
4. Combine dry ingredients, and mix into wet ingredients.
5. Mix in chocolate chips if desired.
6. Lightly press dough into pan.
7. Sprinkle walnuts on top evenly, and press into dough.
8. Bake for 1 hour, turn off oven heat, and leave pan in oven 15 more minutes.
9. Remove pan from oven, cool bread in pan, slice into 8 slices.
10. Serve warm as is, or toast slice on side in toaster oven, and spread with butter.
11. Keeps several days unrefrigerated.
12. Freeze slices individually wrapped or bagged for quick and easy single-serving breakfast/snack.
desserts, banana bread, gluten free, breakfast, dessert, paleo September 29, 2015 15:20
Author Paleo adapted from "Grandma's Banana Bread" submitted by Jeannette Kramer, Cadence International Favorites Cookbook, 1997, Cookbooks by Morris Press.
Share the recipe with your friends
No one has liked this recipe.
0 comments