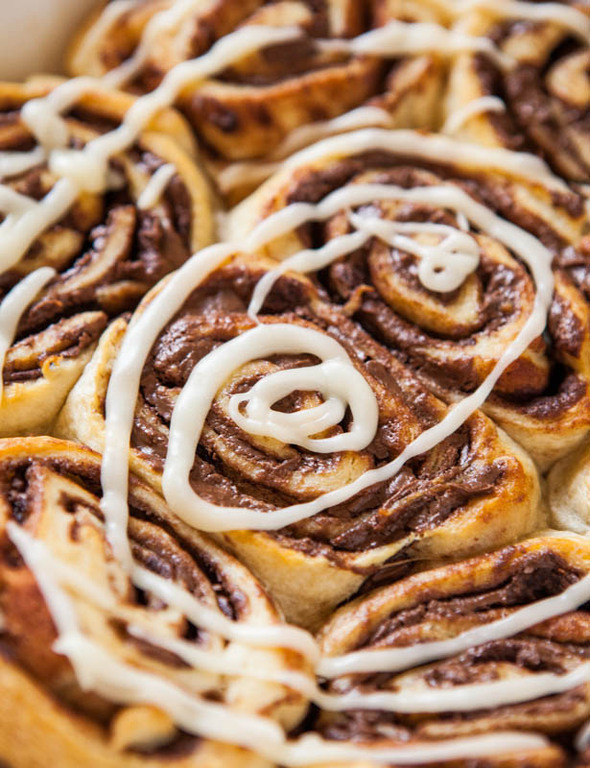 For the Rolls
one 8-count can refrigerated crescent rolls (I used Pillsbury Big & Flaky Crescent Rolls)
about 2/3 cup Nutella (store brand chocolate-hazelnut spread may be substituted)
1 tablespoon+ cinnamon
For the Glaze
2 to 3 tablespoons unsalted butter, melted
1/2 teaspoon vanilla extract
3/4 cup+ confectioners' sugar
splash of cream or milk, optional
Prep. Time → 5 min
Cook Time → 12 min
1. For the Rolls - Preheat oven to 350F. Spray a 9- or 10-inch pie plate or baking dish, or a 9-inch square pan with cooking spray; set aside. Open the can of crescent rolls and carefully unwrap the dough. If two triangles are stuck together, keep them that way. Arrange triangles or rectangles (if two triangles are stuck together) in one long row on clean counter or work surface. Press the seams together, overlapping them slightly to close any large gaps. Generously spread Nutella in an even flat layer over the entire surface, leaving 1/2-inch margins around all borders. Sprinkle generously with cinnamon, to taste.
2. Starting with a short side, roll up the dough into a log, rolling the log as tightly as possible. With a sharp knife (serrated works nicely), bench scraper, or unflavored dental floss (works nicely to pinch off pieces without compressing the dough log), slice log into 8 equal-sized pieces. I find the best way to do this is make a cut in the center, and then divide each half into fourths, rather than trying to eyeball eight pieces working from end to end. Place pieces in prepared pan, noting there will be gaps and spaces. Bake for 12 to 15 minutes, or until rolls have puffed and are just beginning to turn golden; don't overbake because these are meant to be gooey.
3. While rolls bake, make the Glaze: Combine all ingredients in a small bowl and whisk to combine and until smooth, playing with butter and sugar ratios until desired consistency is reached. If desired, a splash of cream or milk may be added to help achieve desired glaze consistency; I don't use it and simply use butter, vanilla, and sugar. Rolls may be glazed immediately upon removing them from oven, resulting in glaze melting into the crevices; or glaze rolls after they've cooled a bit. Glaze may be drizzled on or spread on thicker with a knife or spatula, which is what I do after the photos are done. Serve immediately. Rolls are best eaten fresh, but may be stored in an airtight container at room temperature for up to 3 days.
chocolate, nutella, cinnamon rolls, vanilla glaze February 08, 2013 09:24