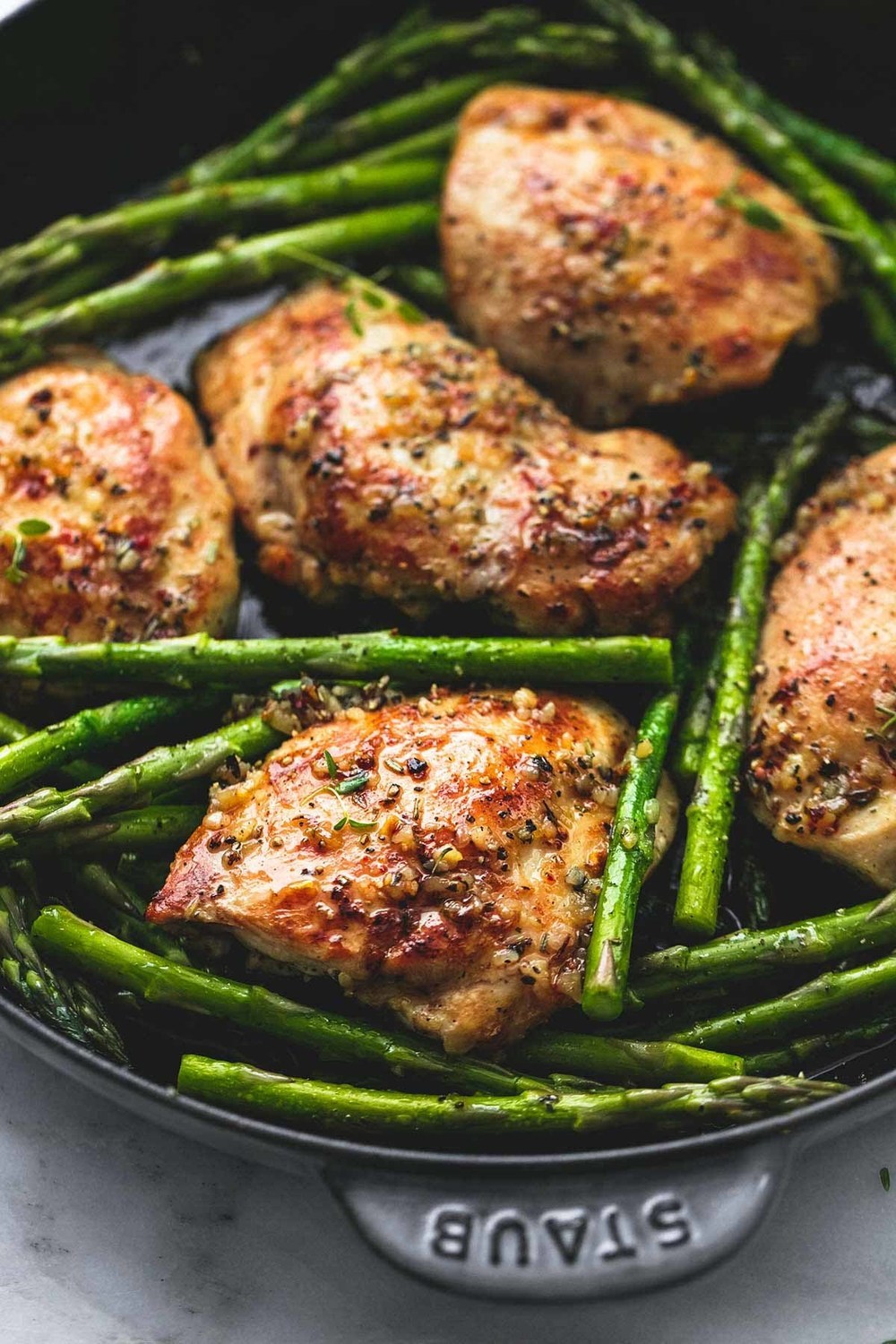 Ingredients
for 4 servings
3-6 chicken thighs or boneless skinless chicken breasts (breasts pounded to even ½ inch thickness)
salt and pepper, to taste
1 pound asparagus, ends trimmed
3 tablespoons butter, divided
1 tablespoon minced garlic
½ teaspoon dried basil (see note)
½ teaspoon dried oregano
½ teaspoon dried thyme
½ teaspoon onion powder
salt and pepper, to taste
fresh herbs for garnish (optional)
In place of the dried basil, oregano, and thyme, you can use about 1½ teaspoons dried Italian seasoning.
Prep. Time → 5 min
Cook Time → 20 min
1. Season chicken with salt and pepper on both sides. Melt 2 tablespoons butter in a large pan/skillet over medium-high heat. Stir in garlic and herbs and cook another minute or so until the garlic is fragrant.
2. Reduce heat to medium, add chicken to pan, and cook for 5-7 minutes, then flip and cook another 5-7 minutes. (Chicken should be nearly, but not completely cooked through by this point.)
3. Scoot the chicken over the sides and add remaining 1 tablespoon butter to the empty portion of the pan.
4. Once the butter is melted, add asparagus. Season asparagus with salt and pepper, to taste. Cook, rotating throughout, for 4-6 minutes until tender and chicken is completely cooked through.
5. Serve immediately garnished with freshly cracked black pepper and fresh herbs if desired.
main courses, asparagus, chicken, onepot May 26, 2017 13:17
Author lecremedelacrumb.com/one-p...
Share the recipe with your friends
No one has liked this recipe.
0 comments