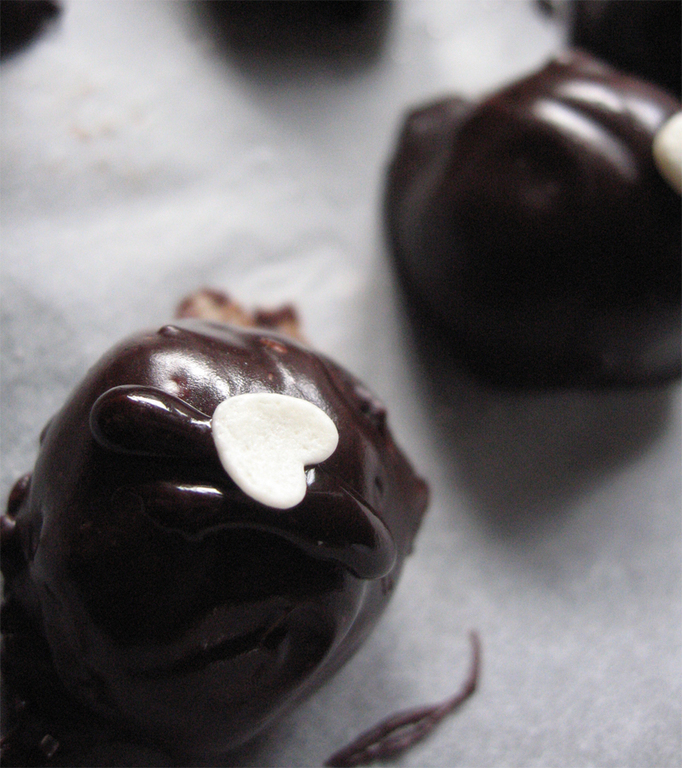 Ingredients
3 cups crushed Oreos (about 32 biscuits)
230g cream cheese, softened at room temperature
150g semisweet chocolate chips
2 teaspoons marg
1. Crush the Oreos in a food processor does the best job u want them really fine, but if you don't have one, throw the cookies in a ziploc bag, grab a rolling pin, and go to town.
2. Transfer 3 cups of the Oreo crumbs to a bowl and add the cream cheese. Using a spoon, press, mix and stir until the cream cheese is completely mixed into the Oreo crumbs and you have a soft, homogeneous mixture. Using a small cookie scoop (or the equivalent of 2 teaspoons), scoop/roll balls of the Oreo/cream cheese mixture and place on a wax paper-lined baking sheet. Once you have scooped out all of the filling, refrigerate the baking sheet for at least 30 minutes, until firm.
3. In a small bowl over boiling water melt chocolate chips and marg until completely melted and smooth. Working with one Oreo ball at a time, dip it into the melted chocolate, roll it around to cover completely, and then use a fork to remove it from the chocolate, letting any excess drip off. Place the dipped truffle back on the wax paper-lined sheet. Repeat with all truffles; once finished, return the baking sheet to the refrigerator for another 30 minutes.
Use good melting chocolate otherwise this process is tedious and irritating.
4. Sprinkle pretty things on top if u like.
5. Store in an airtight container in the refrigerator for up to 2 weeks.
desserts, oreo cheesecake truffle chocolate December 15, 2011 07:42
Author browneyedbaker.com/