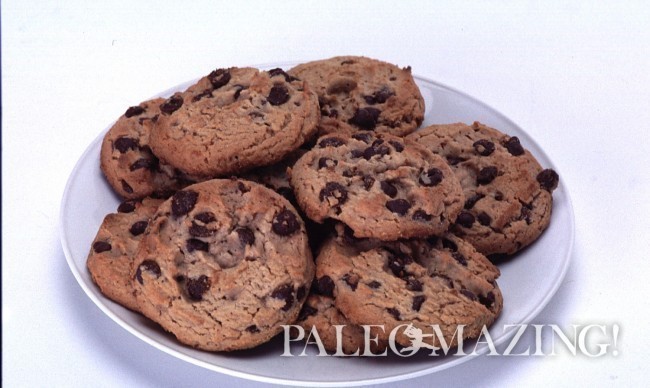 Ingredients
2 cups blanched almond flour
1 tablespoon coconut flour
1 teaspoon unflavored gelatin
½ teaspoon baking soda
½ teaspoon sea salt
6 tablespoons unsalted grass-fed butter, melted
¼ cup + 1 tablespoon honey (I prefer a light honey like clover)
2 teaspoons vanilla extract
½ cup dark organic chocolate chips or chopped
OPTIONAL: chopped nuts of your choice
1. Preheat oven to 350F degrees with rack in middle position.
2. Place almond flour, coconut flour, baking soda and sea salt in a mixing bowl and combine together
3. Mix butter, honey and vanilla together in a separate bowl.
4. In a small cup, add 2 tablespoons cold water to the gelatin.
6. Add all wet ingredients to the dry mixture.
8. Use your electric hand mixer and mix until well incorporated.
9. Stir in chocolate chips (and nuts, if using) by hand.
10. Using your regular silverware, use a teaspoon to scoop the dough.
11. Place each dough ball on a baking sheet lined with parchment paper.
12. Bake for approximately 12 minutes until they are just LIGHT golden brown on the edges.
13. Remove from oven and cool on pan for about 3 minutes.
14. Remove from pan with a cookie spatula and place on rack to cool.
15. Cover them if you won't be eating right away.
desserts, gluten-free cookies, paleo, paleo cookies, paleo dessert, best paleo cookies, best paleo chocolate chip cookies, best sugar-free chocolate chip cookies, grain-free cookies February 16, 2017 18:40
Share the recipe with your friends
No one has liked this recipe.
0 comments