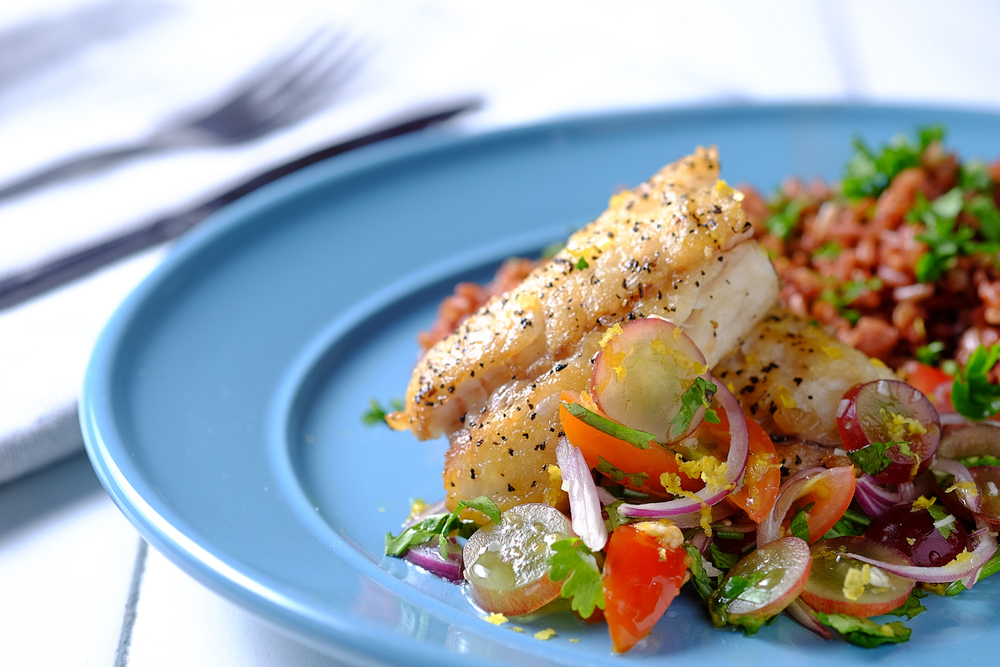 Ingredients
for 6 servings
For the Fish Fillets
6 snapper fillets
15ml/0.5fl oz olive oil
Salt, to taste
Pepper, to taste
For the Salsa
100g/3.5oz seedless grapes, cut into discs
100g/3.5oz cherry tomatoes, cut into quarters
100g/3.5oz red onion, thinly sliced
1 bunch cilantro/coriander, roughly chopped
1 lemon, juice and zest
25g/1oz garlic, minced finely
2pieces Thai chillis, cored and finely chopped
Salt, to taste
Pepper, to taste
Prep. Time → 10 min
Cook Time → 8 min
1. 1. Combine all the ingredients for the salsa in a bowl. Lightly macerating some of the grapes to release its juices. Season to taste with salt and pepper. Cover and refrigerate until ready to serve.
2. Brush snapper fillets with lemon juice. Season with salt and pepper on flesh side.
3. Heat olive oil in a non-stick pan. Lay the fillets skin side down. Cook for approximately three minutes.
4. Flip with a metal spatula and cook for another three minutes. Continue cooking if fillets won't release easily from the pan.
5. Arrange onto a serving platter and top with the prepared grape salsa.
main courses, dairy-free, dinner, fish, gluten-free, lunch, mains September 21, 2017 08:17
Author mynutricounter.com/pan-fri...
Share the recipe with your friends
No one has liked this recipe.
0 comments