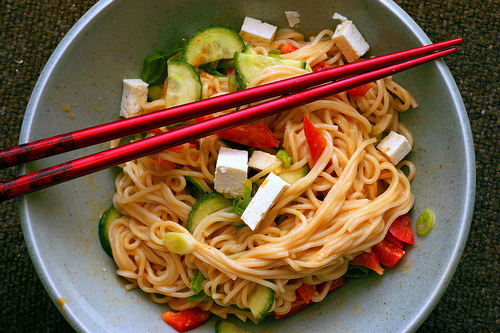 Ingredients
for 6 side-dish or 4 main-course servings
For peanut dressing
1/2 cup smooth peanut butter
1/4 cup soy sauce
1 tablespoon chopped peeled fresh ginger
1 medium garlic clove, chopped
2 tablespoons rice vinegar
1 1/2 tablespoons Asian toasted sesame oil
1 tablespoon honey
1 teaspoon dried hot red pepper flakes or a splash of the hot sauce or chili paste of your choice
1/3 cup warm water
For noodles
3/4 lb dried soba nooodles (dried linguine fini or spaghetti will work in a pinch)
4 scallions, thinly sliced
1 red bell pepper, cut into 1/8-inch-thick strips
1 yellow bell pepper, cut into 1/8-inch-thick strips
Half a seedless cucumber, thinly sliced
1 cup firm or extra-firm tofu, cubed
3 tablespoons sesame seeds, toasted
Prep. Time → 15 min
Cook Time → 10 min
1. Mix peanut dressing ingredients together until smooth.
2. Cook noodles in a 6- to 8-quart pot of boiling salted water until tender. Drain in a colander, then rinse well under cold water.
3. Add pasta, scallions, bell peppers, cucumber and tofu to dressing, tossing to combine. Garnish with toasted sesame seeds and serve immediately.
main courses, asian, japanese, tofu, dinner, lunch, pasta May 22, 2014 22:46
Author smittenkitchen.com/blog/2008/0...
Share the recipe with your friends
No one has liked this recipe.
0 comments