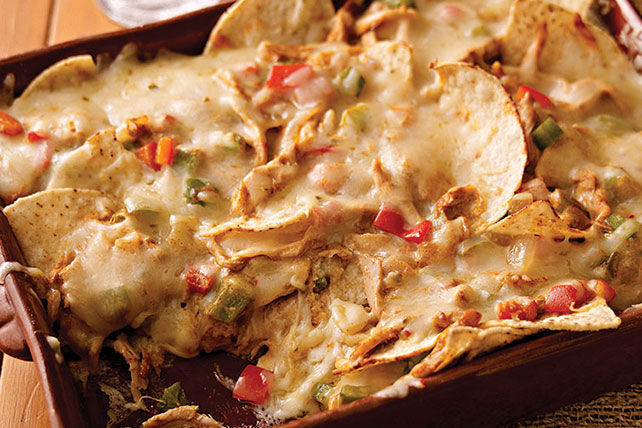 Ingredients
for 6 servings
1 tablespoon olive oil
1 cup green peppers, chopped
1 cup red peppers, chopped
3 cups chicken breasts, cooked and shredded
3/4 cup water
1 1-ounce package of taco seasoning mix
3/4 cup sour cream
7 cups tortilla chips (6 ounces)
1-1/2 cups Pepper Jack cheese, shredded
Prep. Time → 20 min
Cook Time → 20 min
2. Heat oil in large skillet on medium-high heat. Add vegetables; cook and stir 5 minutes. Stir in chicken. Add water and seasoning mix; stir. Cook 10 minutes, stirring occasionally. Stir in sour cream.
3. Place half the chips in 13-inch by 9-inch baking dish; cover with layers or half each of the chicken mixture and cheese. Repeat layers.
4. Bake 20 minutes or until heated through.
main courses, casserole, chicken, mexican, ethnic February 20, 2016 13:59
Author kraftrecipes.com/recipes/p...
Share the recipe with your friends
No one has liked this recipe.
0 comments