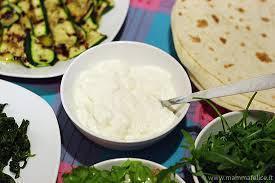 Ingredients
for 4 PERSONE
LA SALSA
4 manciate abbondanti di rucola
2 cucchiai di yogurt di soia naturale
3 cucchiai di senape
2 cucchiai di olio evo
150 ml di latte di soia
150 ml di acqua
LE PIADINE
100 g di farina di ceci
100 ml di latte di soia
100 ml di acqua
L'INSALATA
2 zucchine
300 g di pomodorini
300 g di lattughino
Prep. Time → 20 min
Cook Time → 5 min
1. PIADINE: preparare la pastella aggiungendo acqua e latte di soia alla farina di ceci fino a ottenere un composto simile a quello delle crepes. Lasciare riposare per ca 40 minuti, prendere un mestolo del composto e disporlo al centro di una padella leggermente oleata; dorare da entrambi i lati
2. SALSA: frullare insieme rucola, senape, sale e latte di soia; aggiungere a filo l'olio e tanta acqua quanto basta per ottenere la consistenza desiderata.
3. L'INSALATA: tagliare le zucchine a losanga e scottarle in una padella leggermente oleata, lavare il lattughino e condirlo con olio e sale.
4. Mettere la piadina su un piatto piano, versarvi sopra uno strato di salsa di rucola, aggiungere qualche fettina di zucchine, il lattughino e 2/3 pomodorini tagliati.
starters November 16, 2014 12:06
Author Pentola e benessere
Share the recipe with your friends
No one has liked this recipe.
0 comments