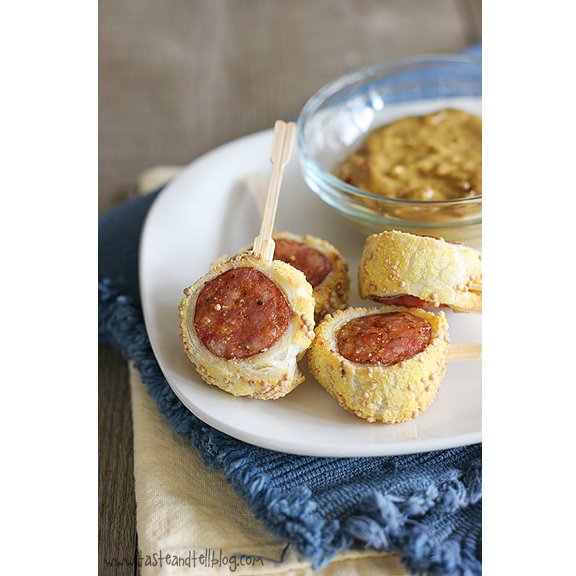 1 sheet puff pastry (1/2 of a 17.3 oz package)
all purpose flour, for rolling out
1 large egg
1 tablespoon water
18 ounces fully cooked andouille sausage (6 sausages)
2 tablespoons yellow mustard seeds
2 tablespoons fine cornmeal
Creole mustard, for serving
1. Line a rimmed baking sheet with parchment paper or a silicone baking liner.
Lightly dust a work surface with flour. Roll the puff pastry into a 12x12-inch square. Brush away any excess flour. Cut the square into half horizontally, then in thirds vertically to make 6 4x6-inch rectangles.
In a small bowl, whisk together the egg and water. Brush the rectangles with the egg wash. Place one sausage along the long end of the rectangle, (don't worry if the ends stick out), and roll the pastry around the sausage. Press the edge to seal. Place on the prepared pan. Repeat with the remaining sausages and rectangles. Set aside the remaining egg wash and refrigerate the sausages for 30 minutes, or up to overnight.
Preheat the oven to 400F.
Combine the mustard seeds and cornmeal in a shallow baking dish. Working with 1 roll at a time, brush the outside of the pastry with the egg wash. Roll in the seed-cornmeal mixture. Repeat with the remaining sausages. (If the pastry becomes warm or soft, return to the refrigerator for a few minutes.)
Using a sharp knife, cut off any ends of the sausages that stick out of the ends. Cut each roll into 6 pieces. If using skewers or toothpicks, insert into the pieces and arrange on the baking sheet, alternating the orientation so the skewers don't touch the pastry as it expands while baking.
Bake for 10 minutes, then flip. Continue cooking until golden brown, 8 to 10 minutes more. Remove to a rack to cool slightly before serving.
Serve warm with the Creole mustard for dipping.
appetizers December 29, 2011 21:18
Author tasteandtellblog.com/2011/...
Share the recipe with your friends
No one has liked this recipe.
1 comment