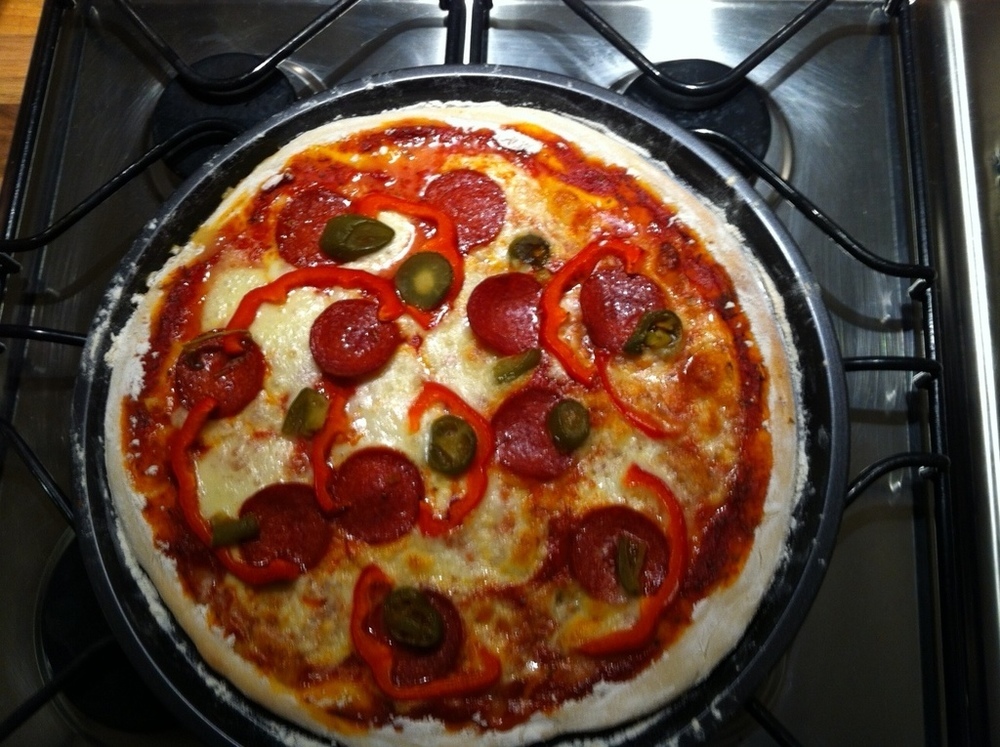 Ingredients
for 2 pizzas, serves 4
BASE
pinch of salt
1 tsp dried yeast
140ml warm water
180g strong plain bread flour, plus extra for dusting
1 tbsp extra virgin olive oil, plus extra for greasing
TOPPING
400g passata
1 tsp dried oregano
Salt and freshly ground black pepper
1 mozzarella ball (125g), drained and cut into small cubes
1 red pepper, sliced
50g green jalepinos
20 slices pepperoni
Prep. Time → 45 min
Cook Time → 20 min
1. To prepare the dough, mix the salt and yeast together in a jug with the water. Place the flour in a large bowl, make a well in the centre and add the water mixture, along with the oil. Use a wooden spoon to mix everything well to create a wet dough.
2. Turn out the dough onto a clean well-floured surface and work it with your hands for about 5 minutes or until smooth and elastic. Place in a greased bowl and cover with a tea towel. Leave at room temperature to rise for at least 30 minutes until the dough has nearly doubled in size. Meanwhile, preheat the oven to 220c/ 425f/ gas mark 7.
3. Turn out the dough onto a floured surface and divide into two. Use your hands to push out from the centre, creating two rounds about 25cm in diameter. Place the pizza bases on two oiled baking trays.
4. Spread the passata on top of the dough using the back of a tablespoon. Sprinkle with oregano and season with salt and pepper.
5. Divide the mozzarella, peppers, jalepinos and pepperoni between the two pizzas. Cook in the middle of the oven for about 20 minutes or until the edges of the pizza are golden brown.
main courses, pizza November 14, 2011 20:43
Author Gino D'Acampo