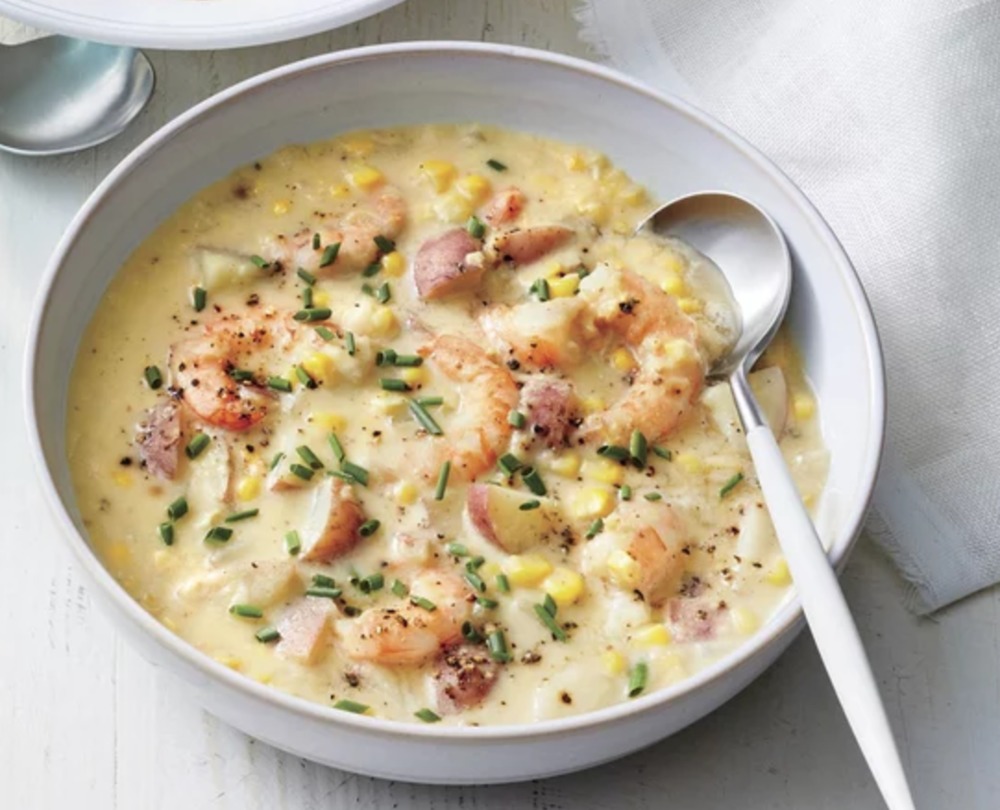 3 medium (1 pound, 5 ounces total) ears fresh shucked yellow corn
2 tablespoons unsalted butter
1/2 cup chopped yellow onion (from 1 small onion)
2 garlic cloves, chopped (about 2 teaspoons)
1 3/4 cups lower-sodium chicken broth
10 ounces (6 medium) baby red potatoes, cut into 1⁄2-inch pieces
1 teaspoon kosher salt
1/4 teaspoon black pepper
8 ounces medium-size peeled, deveined raw shrimp
2 tablespoons heavy cream
2 tablespoons sliced fresh chives
Prep. Time → 20 min
Cook Time → 15 min
1. Cut kernels from corncobs (about 2 1⁄4 cups); place in a bowl. Using the large holes on a box grater, scrape pulp and liquid (about 1⁄2 cup) from cobs into bowl with kernels. Discard cobs.
2. Heat butter in a large saucepan over medium-high. Add onion and garlic; cook, stirring occasionally, until softened, 3 to 4 minutes. Stir in chicken broth, potatoes, salt, and pepper. Bring to a boil. Reduce heat to medium-low; cook, stirring occasionally, until potatoes are just tender, 12 to 15 minutes. Add corn mixture; stir until well combined.
3. Transfer 1 cup of the chowder to a blender. Secure lid on blender, and remove center piece to allow steam to escape. Place a clean towel over opening. Process until smooth, about 15 seconds. Stir mixture back into remaining chowder. Bring to a simmer over medium. Add shrimp, and cook, stirring occasionally, until opaque and cooked through, about 3 minutes. Stir in heavy cream. Ladle into 4 bowls. Sprinkle each serving with chives.
main courses, corn, potatoes, seafood, shrimp July 09, 2019 10:49
Author https://southernliving.com/recipe...
Share the recipe with your friends
No one has liked this recipe.
0 comments