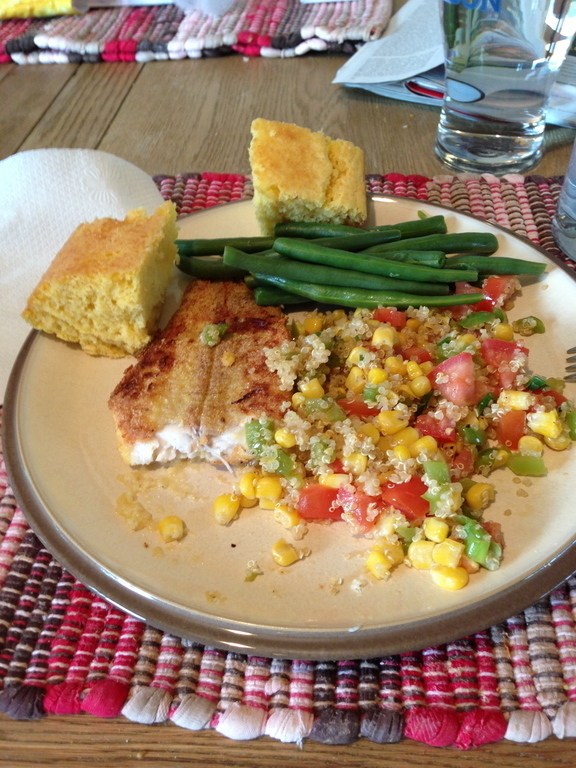 Ingredients
1/3 cup uncooked quinoa
1 tablespoon olive oil
1 cup chopped green or red bell pepper
1 tablespoon minced jalapeno pepper (OPTIONAL)
1 teaspoons minced garlic
1 cup corn kernels
1 cup chopped tomato
1/4 cup chopped green onions
1 tablespoon fresh lime juice
Salt and black pepper
1. Place quinoa in a fine sieve and place sieve over a large bowl.
2. Cover quinoa with water and using your hands, rub grains together for about 30 seconds, rinse and drain. Repeat this twice.
3. Combine 1/2 cup hot water and quinoa in a small saucepan and bring to a boil. Cover, reduce heat and simmer 13 minutes or until liquid is absorbed and quinoa is tender (test it, if it needs more time, add some water and keep boiling).
4. Heat a large skillet over medium high heat. Add oil, swirling to coat.
5. Add bell pepper, jalapeno (if using), garlic, salt, and pepper to the pan. Saute for 3 minutes.
6. Add corn and saute for another 2 minutes.
7. Stir in quinoa, tomato, onions and juice.
8. Serve as a side to anything!
side dishes, quinoa June 03, 2013 04:10
Author myrecipes.com/recipe/cornm...
Share the recipe with your friends
No one has liked this recipe.
0 comments