Ingredients
for 2 - 4 people
2 medium onions
2-4 garlic cloves
500g to 1kg chicken breasts (cut into small squares)
2 large potatoes
3 carrots
1 chili
red curry paste (get good quality!)
1 coconut milk
handful of broccoli
handful of green beans
handful of buk choi
basmati rice
Prep. Time → 20 min
Cook Time → 40 min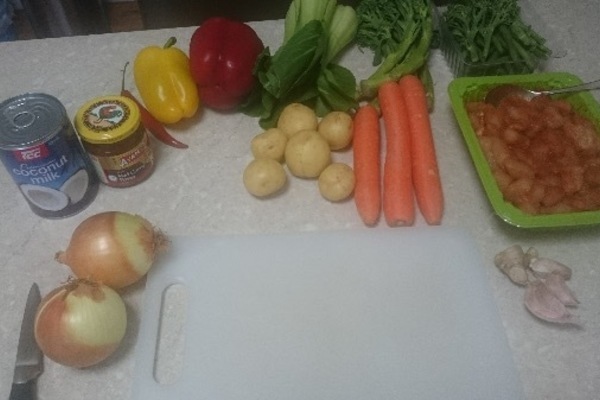 1. Marinate (i.e. take half of curry paste and rub into chicken) chicken for as long as 24 hours before you make the dish. I normally only remember a few hours before...
2. Cut up potatoes, carrots and green beans. Add these to boiling water in a saucepan. Boil for max 10 mins, not too long, as you just want the potatoes slightly soft.
3. Dice onions, garlic and chili into large pan. Fry for about 5 mins. Set heat low! Then add the chicken pieces. Key is not to overcook the chicken! Only get chicken sides closed within max 5 to 10 mins.
4. Add coconut milk and other half of curry paste to the chicken in the pan. Give a good mix. Add the potatoes, carrots and green beans from the drained saucepan to the chicken pan. A bit of boiled water might be necessary to increase the sauce. add the broccoli and buk choi as well.
5. In parallel to above, add boiling water and some basmati rice into the saucepan. Cook rice until soft, but firm. rinse water.
6. Cook curry for about 15 mins and should then be ready to serve! Key is not to overcook, as you want firm veg and soft chicken! (serve curry on rice)
main courses, chicken, red curry, veg October 04, 2017 16:21
Share the recipe with your friends
No one has liked this recipe.
0 comments