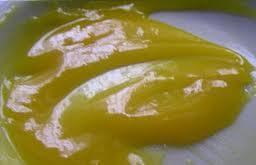 Ingredients
1 litro de agua
1 barra de canela
300 gr.de azúcar
80 gr.de maicena
1. separar 100 ml. de agua aprox.
2. diluir la maicena en él
3. el resto de agua ponerla al fuego con el resto de ingredientes
5. cuando esté añadir la maicena y mantener al fuego hasta espesar moviendo
6. añadir colorante amarillo
desserts October 10, 2012 21:53
Share the recipe with your friends
No one has liked this recipe.
0 comments