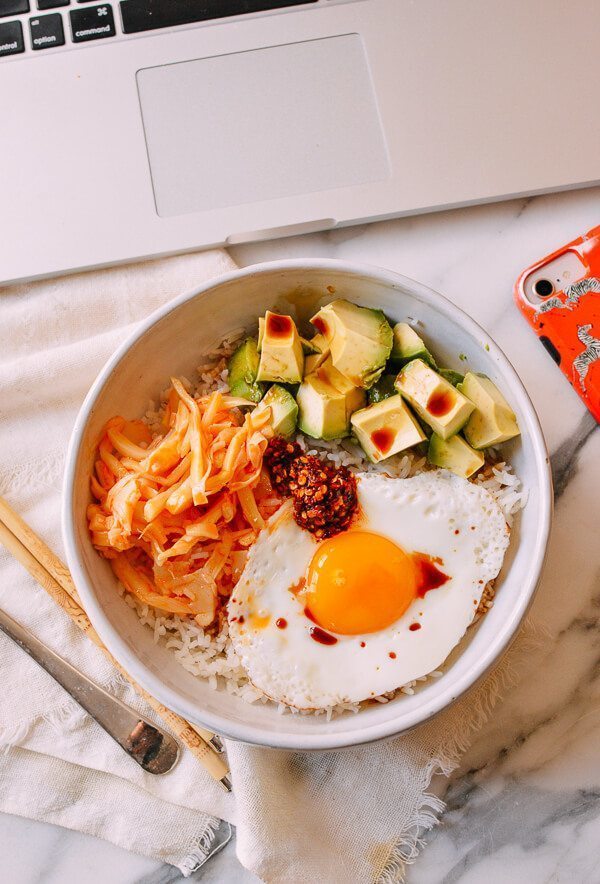 This is my go-to weeknight recipe. Faithful, tried, and true. It's not going to win you effusive compliments with the dinner party set, but it pulls the curtain back on what this food blogger really eats when she is desperate to eat something good and fast.
Recipe type: Quick & Easy
Cuisine: Chinese
Ingredients;
1-2 cups cooked rice
1 fried egg—to your liking
½ an avocado
A wad of preserved chili bamboo shoots (you heard me)
A dollop of chili oil or chiu chow oil to taste
A drizzle of soy sauce
A pinch of ground white pepper (optional)
Instructions;
Make the rice. Put it in a bowl. One that is easily held while sitting in front of the TV or huddled over your computer.
Fry the egg--to your liking! Scrambled or hard-boiled will do just fine too.
While the egg is cooking, grab the avocado. Halve it, seed it, and cut it up. Or just scoop it out over the rice.
Add your preferred concentration of chili bamboo shoots.
Fetch your preferred spicy chili oil agent from the fridge. Add in a scoop of that to taste.
Drizzle the soy sauce over the whole thing. Add a pinch of white pepper.
Mix and enjoy!
July 21, 2018 16:28
Author kaitlin
Share the recipe with your friends
No one has liked this recipe.
0 comments