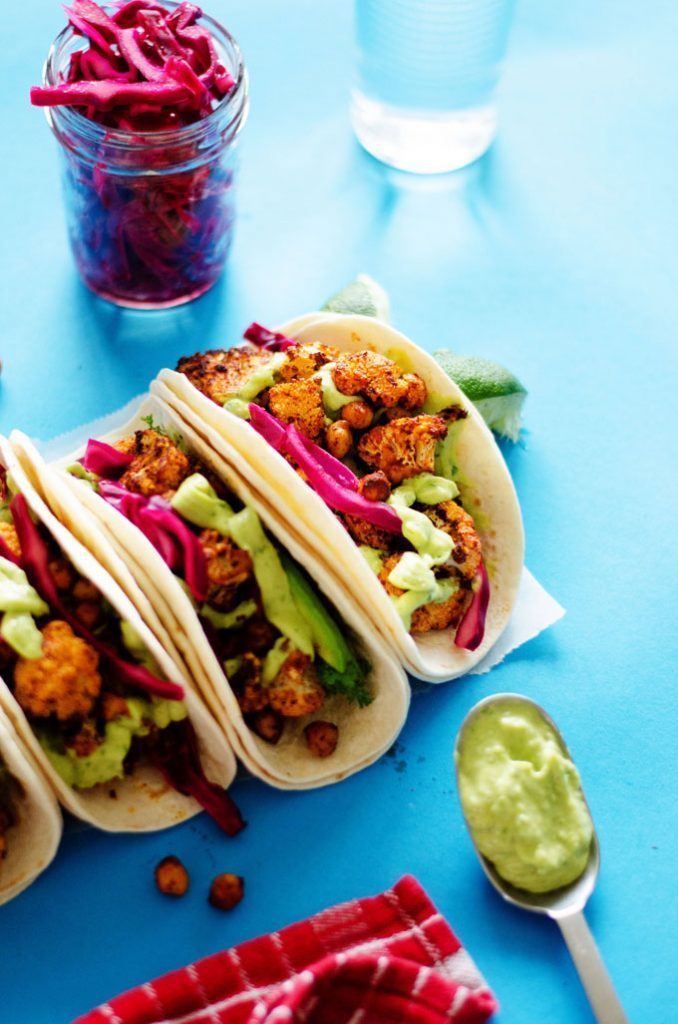 Ingredients
for 4 portions
Quick Slaw
2 cups (220 g) thinly sliced red cabbage
3 Tbsp (45 ml) apple cider vinegar
1 lime, juiced
1 tsp honey or sugar for vegan alternative
¼ tsp salt
Roasted Cauliflower Taco Filling
3 cups (350 g) cauliflower, chopped
425 g can chickpeas, strained and patted slightly dry
2 Tbsp olive oil
1 Tbsp chili powder
2 tsp paprika
½ tsp salt
¼ tsp cumin
Avocado Sauce
1 ripe avocado
1 clove garlic, minced
A few Tbsp of olive oil
1/2 lime, juiced
2 Tbsp chopped parsley
Salt and pepper to taste
To serve
8 flour tortillas
Prep. Time → 15 min
Cook Time → 30 min
1. Slaw: Combine all of the slaw ingredients in a non-metal bowl and set aside. Stir every once in a while.
2. Cauliflower filling: Preheat oven to 204 C. Toss together all cauliflower filling ingredients. Lay on a parchment-lined baking sheet and bake for 30 minutes, or until slightly browned and crisp.
3. Sauce: Meanwhile, combine all sauce ingredients in a food processor until smooth.
4. Assemble: Spoon filling evenly onto 8 tortillas. Top with a heaping spoonful of slaw and avocado sauce. Serve immediately or store separately until ready to eat.
main courses, dinner, tacos, vegan, oven only January 04, 2019 16:54
Author Live eat learn
Share the recipe with your friends
No one has liked this recipe.
0 comments