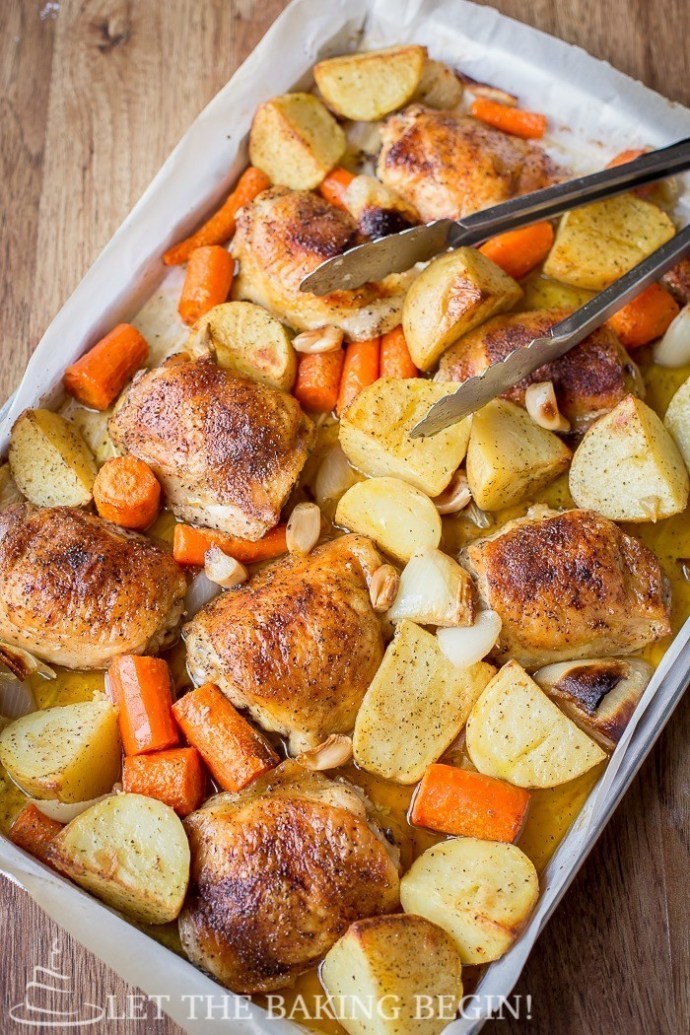 2 chicken thighs
2 red potatoes cut in 1 inch pieces
5-6 carrots quartered in 1-2 inch pieces
1/2 onion cut in slices
5-10 garlic cloves whole, peeled
1 Tbsp Kosher salt
1 tsp Black ground pepper
1 tsp garlic powder
1 Tbsp Italian seasoning
2 tsp ground nutmeg
2 Tbsp olive oil
Prep. Time → 10 min
Cook Time → 30 min
1. Preheat oven to 375°F. Line a rimmed 12in x 18in baking sheet with foil or even better, parchment paper.
2. Pat dry chicken with a paper towel.
3. Add chicken, potatoes and carrots, onion & garlic to the lined rimmed baking dish and sprinkle with salt, pepper, and garlic powder. Drizzle with 2 tbsp olive oil. Carefully toss everything to coat. Sprinkle everything with Italian seasoning and nutmeg.
4. Place in the oven and bake for 30 minutes or until done. If the chicken and vegetables have not browned up as much as you would like, turn the broil setting on and broil for a couple minutes. Watch carefully, or they will burn.
main courses, chicken, winter December 11, 2019 04:47
Author https://letthebakingbegin.com/one-pan...
Share the recipe with your friends
No one has liked this recipe.
0 comments