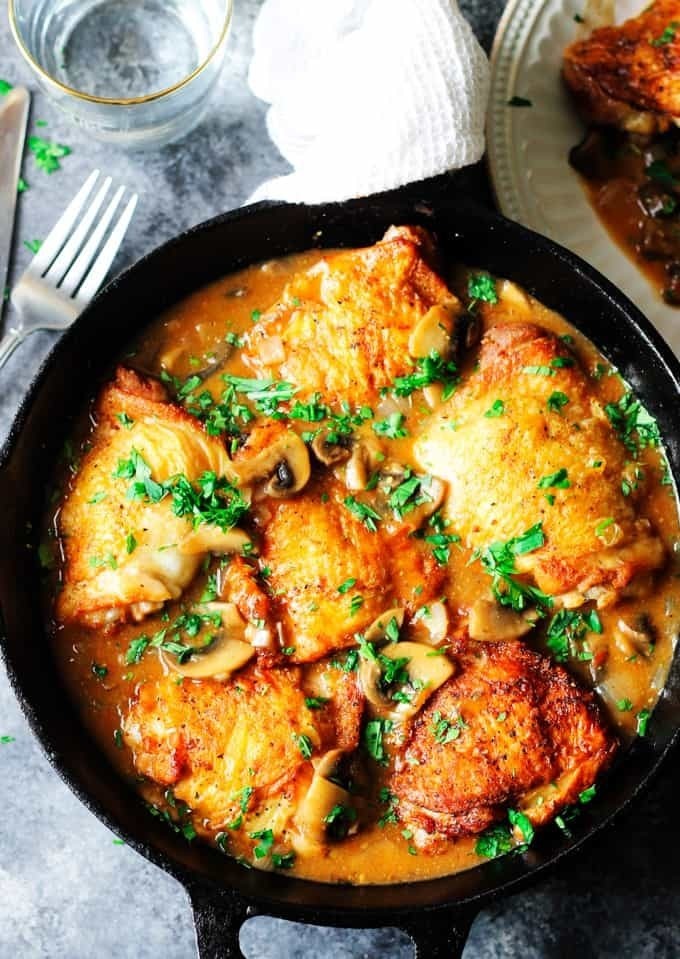 Ingredients
for 4-6 people
1 whole chicken cut into 6 pieces (keep skin on and bone-in to keep chicken moist - if you do use boneless, skinless the chicken will be dried out more)
1 tbsp vegetable oil (I use avocado oil)
HUNTER SAUCE
1 tsp vegetable oil
2 cups quartered mushrooms
1 1/2 tsp green peppercorns
1 tbsp brandy (I used rum, but you can just use apple juice if you want)
1 cup (or more) demi-glaze (I will put recipe on this site as well)
3 tbsp white wine
2 tbsp sun-dried tomatoes, rehydrated if not oil-packed
2 tbsp chopped parsley
1 tsp dijon mustard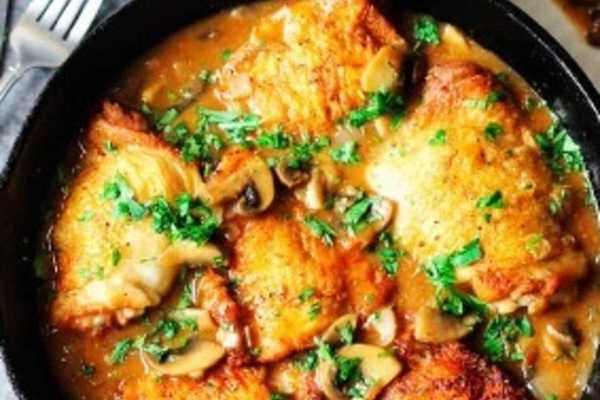 2. Heat the oil in a heavy-bottomed pot until it ripples. Sauce mushrooms until golden brown and fragrant, approximately 5 mins. Add the peppercorns and continue to sauce for another 2 mins.
3. Add the brandy and allow to evaporate. Add the demi-glaze, white wine, sun-dried tomatoes, parsley and mustard. Reduce heat to low and simmer gently until the sun-dried tomatoes are softened, approximately 3 mins. Do not reduce!
4. Remove from heat. Serve immediately. The sauce can be stored refrigerated for up to 5 days.
6. Preheat oven to 350. Thoroughly pat dry the chicken to encourage crisp skin.
7. Arrange chicken on foil-lined tray, leaving ample space between each piece to help caramelization and even cooking. Brush chicken with oil.
8. Bake chicken for 40 mins. The internal temperature of the chicken should register 160.
9. Broil the chicken for 5 mins, watching carefully to avoid burning the skin. Allow a rest for 1 min before plating.
10. Pour 1/2 cup of hunter sauce over the chicken. Serve immediately with additional sauce on the side.
11. Great served with roasted veggies. Enjoy!
main courses December 07, 2020 23:05