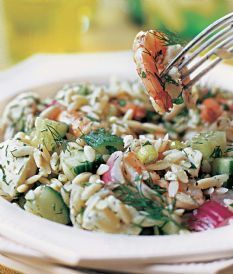 Ingredients
for 6 to 8 people
salt
good olive oil
3/4 lb (340 g) orzo
1/2 cup freshly squeezed lemon juice (3 lemons)
freshly ground black pepper
2 lbs med to large shrimp, peeled and deveined (16 to 18 count)
1 cup chopped scallions, white and green parts
1 cup chopped fresh dill
1 cup chopped fresh flat-leaf parsley
1 english cucumber, med-diced
1/2 cup small-diced red onion
3/4 lb (340 g) good feta cheese, large diced
Directions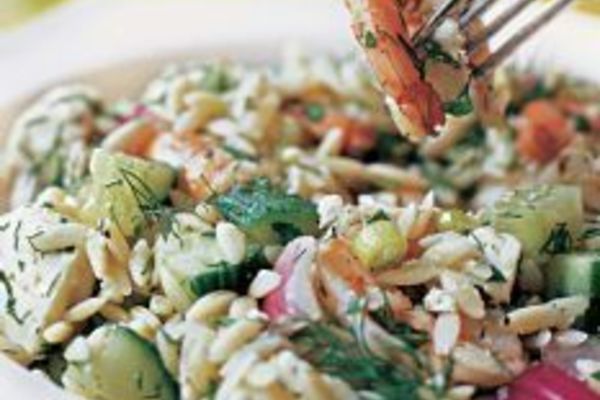 1. Preheat oven to 400 degrees.
2. Fill a large pot with water, salt and a splash of oil, and bring to a boil. Add the orzo and simmer for 9 to 11 mins, stirring occasionally, until its cooked al dente. Drain and pour into a large bowl. Whisk together the lemon juice, 1/2 cup olive oil, 2 tsp salt, and 1 tsp pepper. Pour over the hot pasta and stir well.
3. Meanwhile, place the shrimp on a sheet pan, drizzle with olive oil, and sprinkle with salt and pepper. Toss to combine and spread out in a single layer. Roast for 5 to 6 mins, until the shrimp are cooked through. Don't overcook!
4. Add the shrimp to the orzo and then add the scallions, dill, parsley, cucumber, onion, 2 tsp salt, and 1 tsp pepper. Toss well. Add the feta and stir carefully. Set aside at room temperature for 1 hr to allow the flavours to blend, or refrigerate overnight. If refrigerated, bring back to room temperature before serving.
October 05, 2016 02:32
Share the recipe with your friends
No one has liked this recipe.
0 comments