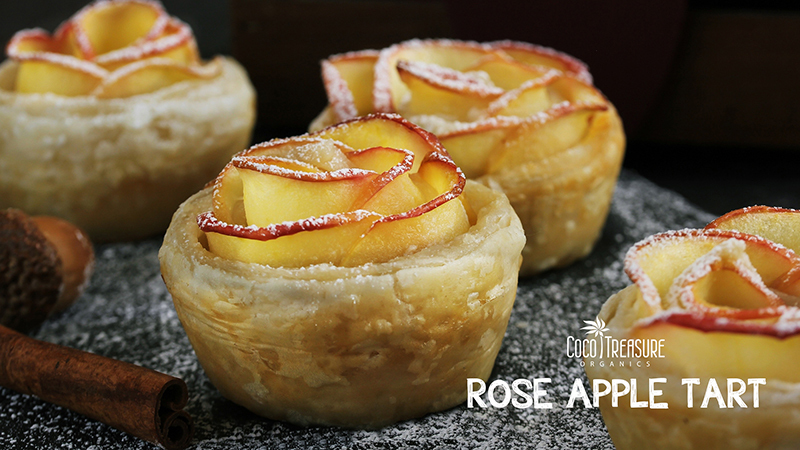 Ingredients
for 6 Servings
For the Crust
1 tablespoon Coco Treasure Organics Extra Virgin Coconut Oil
1 piece egg
1 cup walnuts
1 cup almond flour
2 tablespoons Coco Treasure Organics Coconut Nectar Syrup
For the Filling
¼ cup Coco Treasure Organics Coconut Nectar Syrup
½ lemon
1 piece egg
1 cup evaporated milk
2 pieces egg yolks
3 red apples
Maple flakes (optional)
Prep. Time → 60 min
Cook Time → 35 min
1. For the Crust:
Put the walnuts in a food processor and process them until a flour-like consistency is achieved.
Add the maple syrup, coconut oil, and egg into the food processor. And then, continue processing until a dough is formed.
If the dough comes out too sticky, freeze it for 10 minutes.
Spread the dough in a baking pan. Be sure every side is evenly covered. Set aside and place in the fridge.
2. For the Filling:
Preheat the oven to 350 degrees Fahrenheit.
Fill a large bowl with lukewarm water. Squeeze half of the lemon into the water.
Wash and remove the core of the apple one at a time. Slice them thinly. If possible, use a mandolin slicer. Drop the apple slices in the lemon water.
After all the apples have been sliced, submerge them in boiling water for 10 seconds.
Next, arrange the apples in the crust and to form roses. Fill the pan with the rest of the apple slices until full.
In a separate bowl, whisk the egg, evaporated milk, egg yolks, and coconut nectar syrup. After which, pour the mixture into the apple slices.
Bake for 35 minutes until the surface starts to brown.
Allow to cool down before refrigerating for an hour.
Serve with maple flakes on top.
3. Recipe Notes: Now you know how to make your own rose apple tart! We totally enjoyed making this. Hopefully, you will enjoy it as well.
desserts, coco treasure organics, dessert, food, recipe, rose apple tart February 13, 2018 05:20