Ingredients
1 lb lean ground beef
1 egg
1/4 cup bread crumbs
1/8 tsp pepper
1/2 tsp each seasoned salt, onion powder and garlic powder
1 tsp worcestershire sauce
1 tbsp avocado oil
1 cup thinly sliced onion
3 tbsp flour
2 cup beef broth (i used better than beef bouillon)
2 tbsp white wine
1/2 tsp seasoned salt
I would also cook up some mushrooms with the onions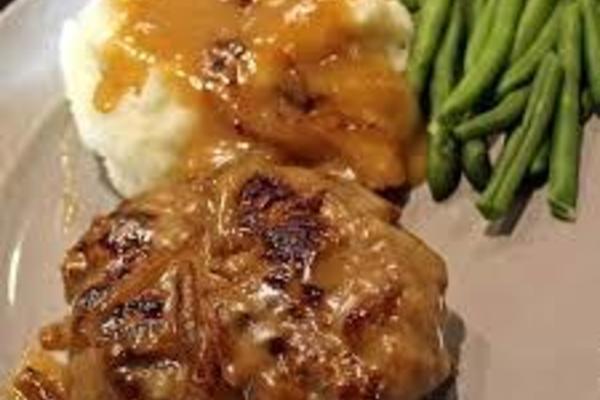 1. In a large bowl mix together the beef, egg, bread crumbs, pepper, salt, onion powder, garlic powder, and worcestershire sauce. Form into 6 to 8 balls and flatten into patties.
2. Heat the oil in a large skillet over med heat. Fry the onions and mushrooms until translucent and remove from pan. Fry the patties about 4 mins per side. Remove beef patties.
3. Add onions back to the pan and and sprinkle flour over the onions and drippings and stir. Gradually mix in the beef broth and wine. Season with seasoned salt. Simmer and stir until the gravy has thickened. Turn heat to low, return patties to the gravy, cover, and simmer for another 10 to 15 mins.
4. Anybody remember the old Salisbury House in Winnipeg???
main courses October 17, 2019 02:08
Share the recipe with your friends
No one has liked this recipe.
0 comments